How the Class 40 was won, written by Matthew Pryor / Transat Jacques Vabre 2017
The largest and most international of the four classes in Le Havre with 15 boats on the start line, the Class 40 was also the hardest to call.
Half the fleet were potential winners and five genuine contenders – three of them dominated the race, before V and B (Maxime Sorel / Antoine Carpentier) finally emerged on top.
At the very end it was a contest between two evenly matched French duos Mach 3 Manuard design boats in a match race down the coast of Brazil. But the result was far clear for most of the race. Despite having a boat a generation older, the Anglo-Spanish duo of Phil Sharp and Pablo Santurde in Imerys Clean Energy were only shaken off at the very end.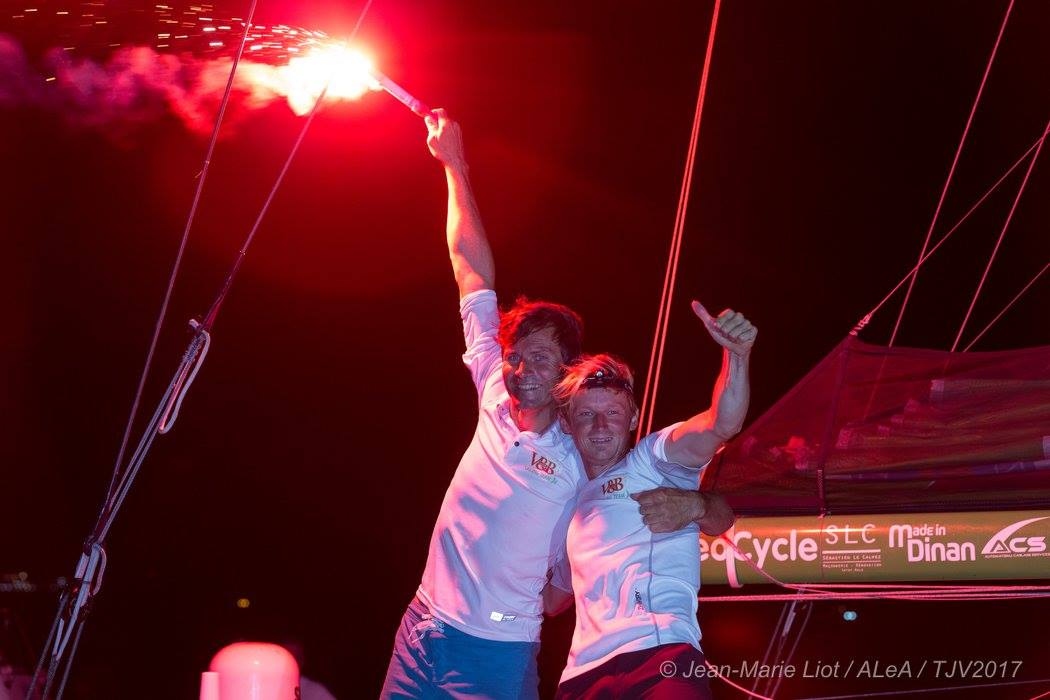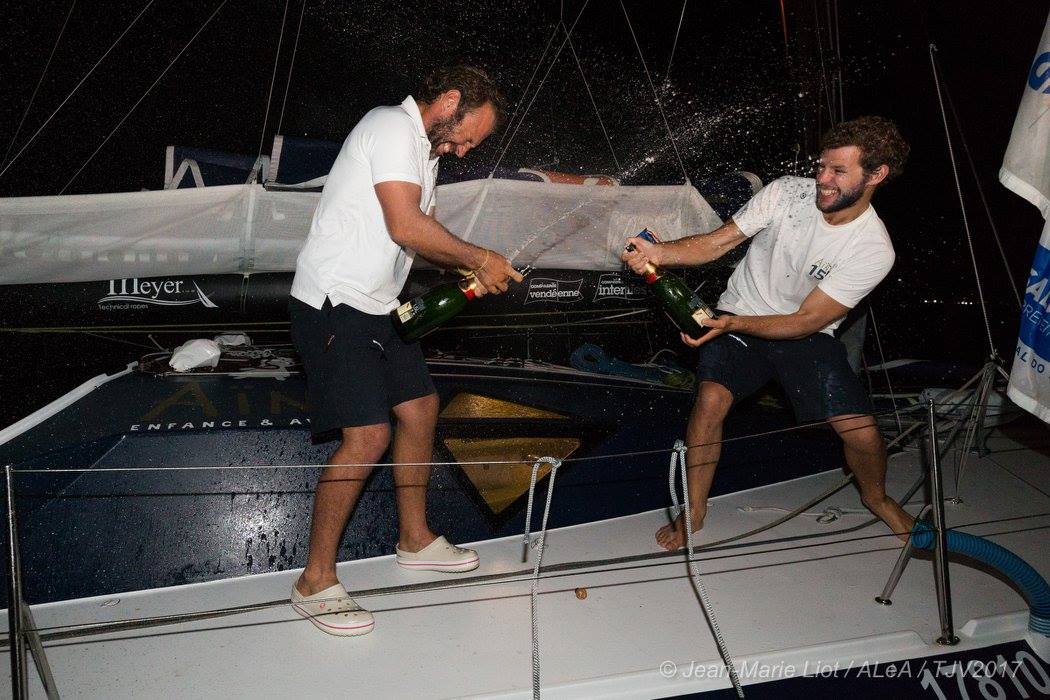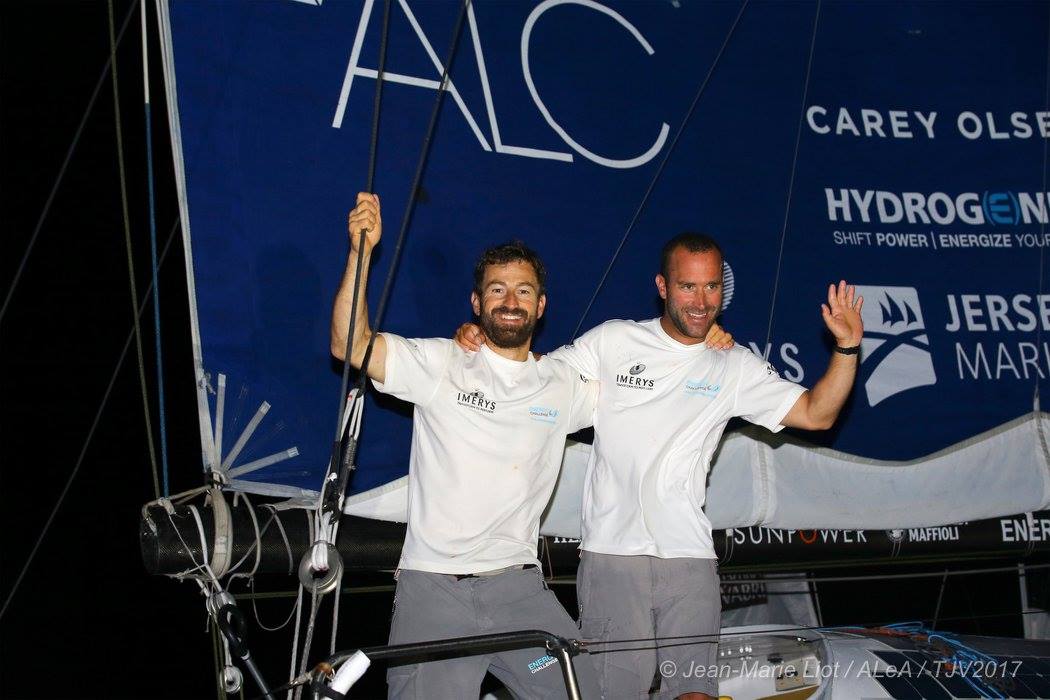 © Jean-Louis Carli ALeA TJV2017
The start
Sunday, November 5, 13:35 (French time).
"(I'm feeling) anticipation and hunger to get out there," the 36-year-old Sharp says on the pontoon. "I feel the pressure of it (being one of the favourites). I'm hoping for 17 days, I'm aiming high."
And they're off, in beautiful light, but lively weather. It's a marathon not a sprint, but Imerys Clean Energy makes a statement of intent by winning the start.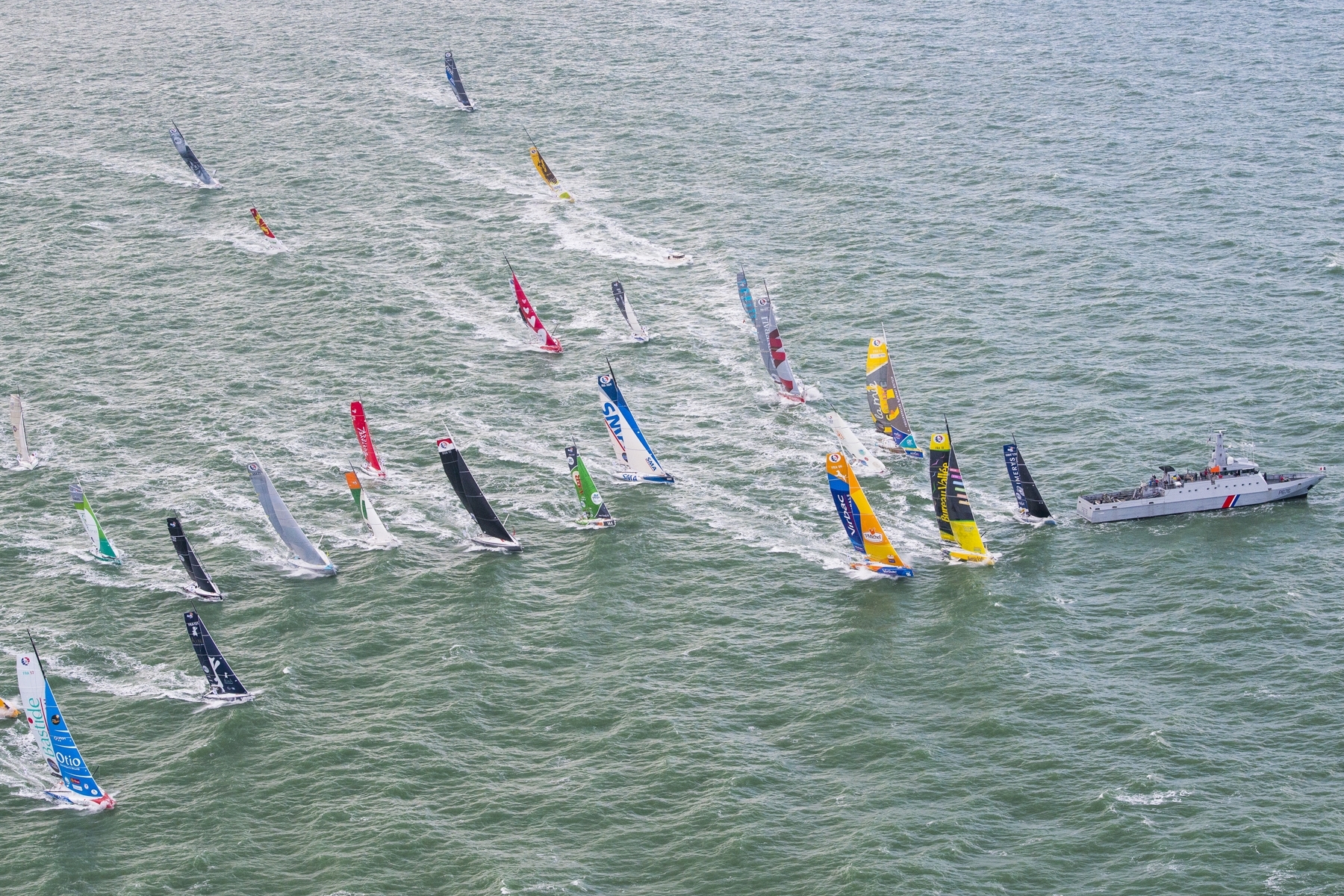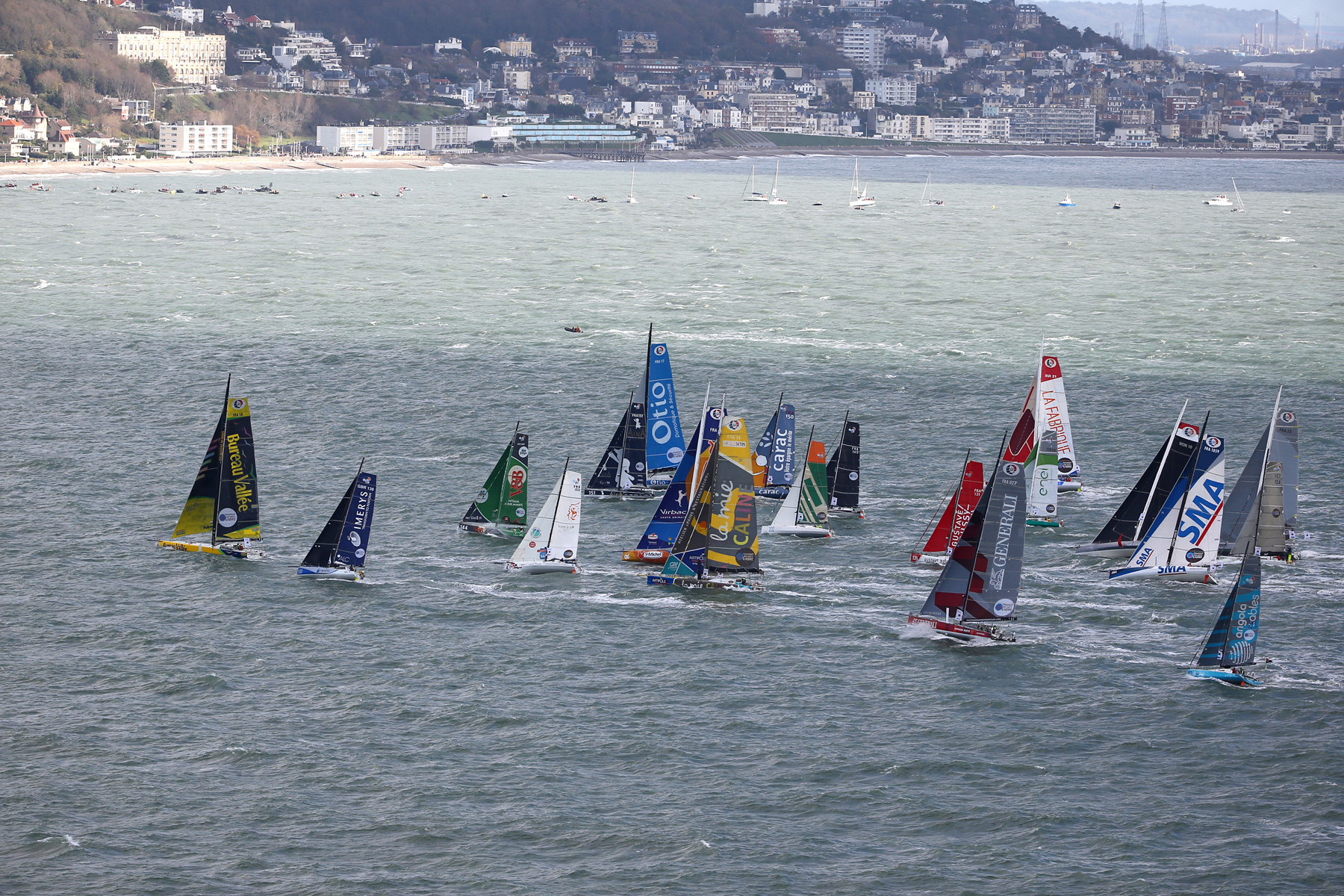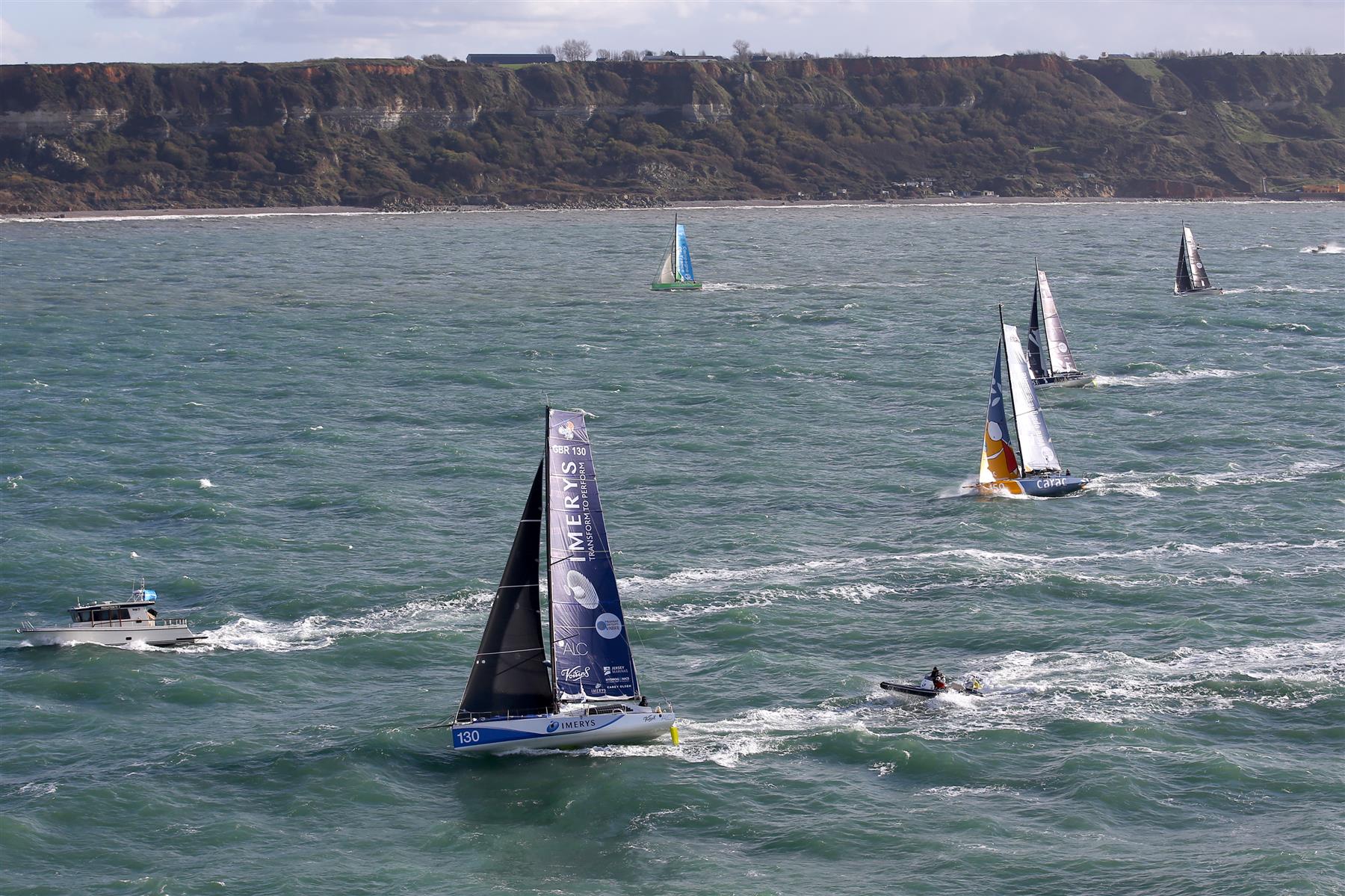 © Jean-Marie Liot / ALeA / TJV2017
Second night – The cold front
Tuesday, November 7
On the pontoons all the classes had talked with trepidation about the cold front and the second night. As the smallest boats in the fleet, the Class40 looked most vulnerable.
In the end it was not quite as bad as some had feared, but it took its toll. V and B, who had been pressing at the front of the fleet, were forced to drop their sails for two hours to laminate a cracked front bulkhead. They drop back to tenth and bear away east. It is a piece of DIY they will monitor nervously all the way to the end.
And after they cross the front there is no let up.
Shortly after 12:00 UTC on November 7, Campagne de France, on of the pre-race favourites and maintaining a strong challenge in 5th place in class, suffered a brutal broach 150 miles southwest of the tip of Brittany. British sailor, Miranda Merron and her French co-skipper – in sailing as in life – Halvard Mabire were forced back to the coast to assess a damaged port rudder (they will retire three days later because of it).
Imerys Clean Energy take the lead in the late afternoon. "We're hurtling along with a full spinnaker up, absolutely flying. It's very fast, very violent and it's seriously full on," Sharp says, soon setting a new boat speed record of 25.5 knots.
Imerys Clean Energy lose core weather data and are forced to invest considerable time (whilst losing valuable sleep) configuring an old back up sat phone. 3 days later the team have access to intermittent low detail weather data, at times taking hours simply to access the internet, which remained the same until the finish.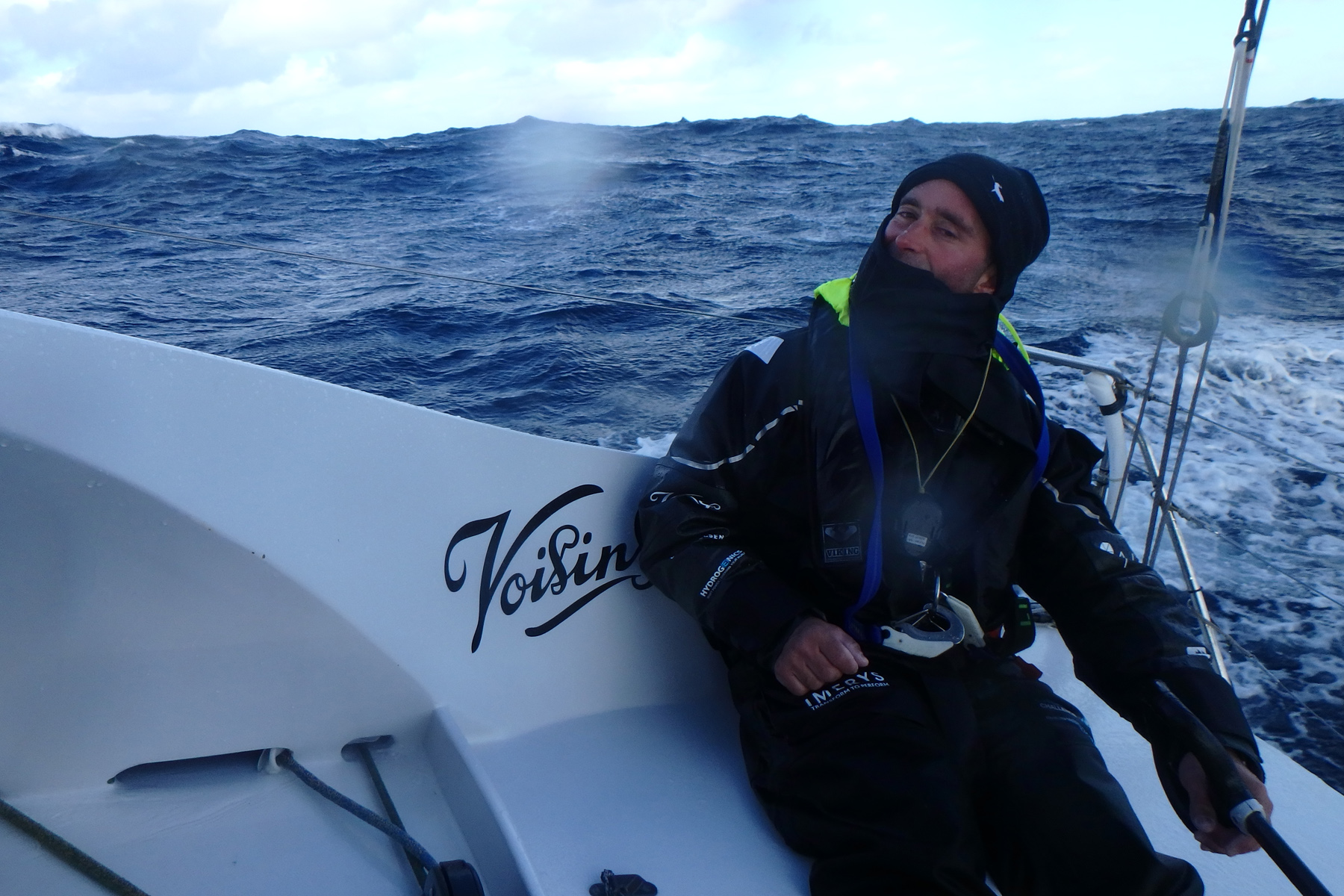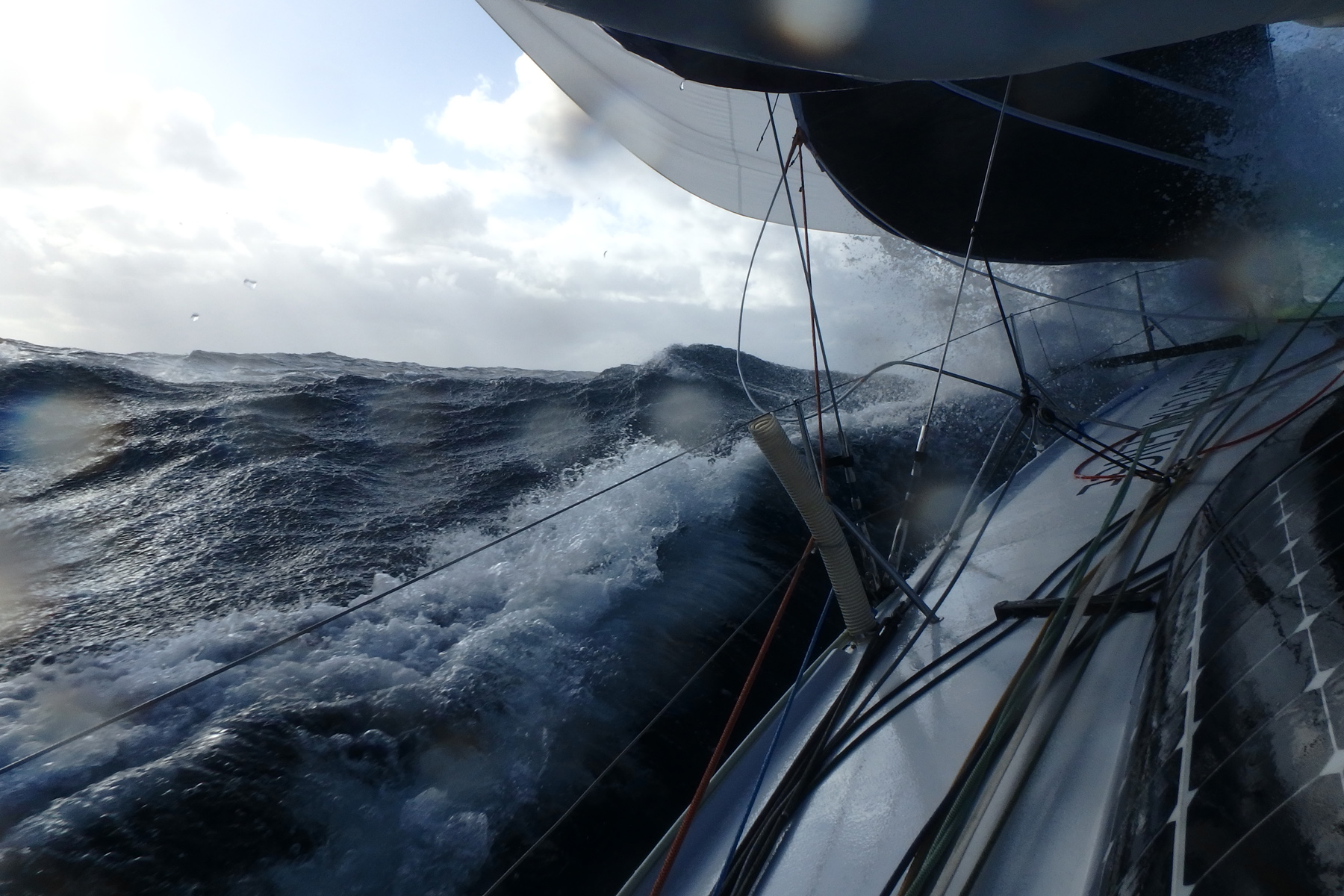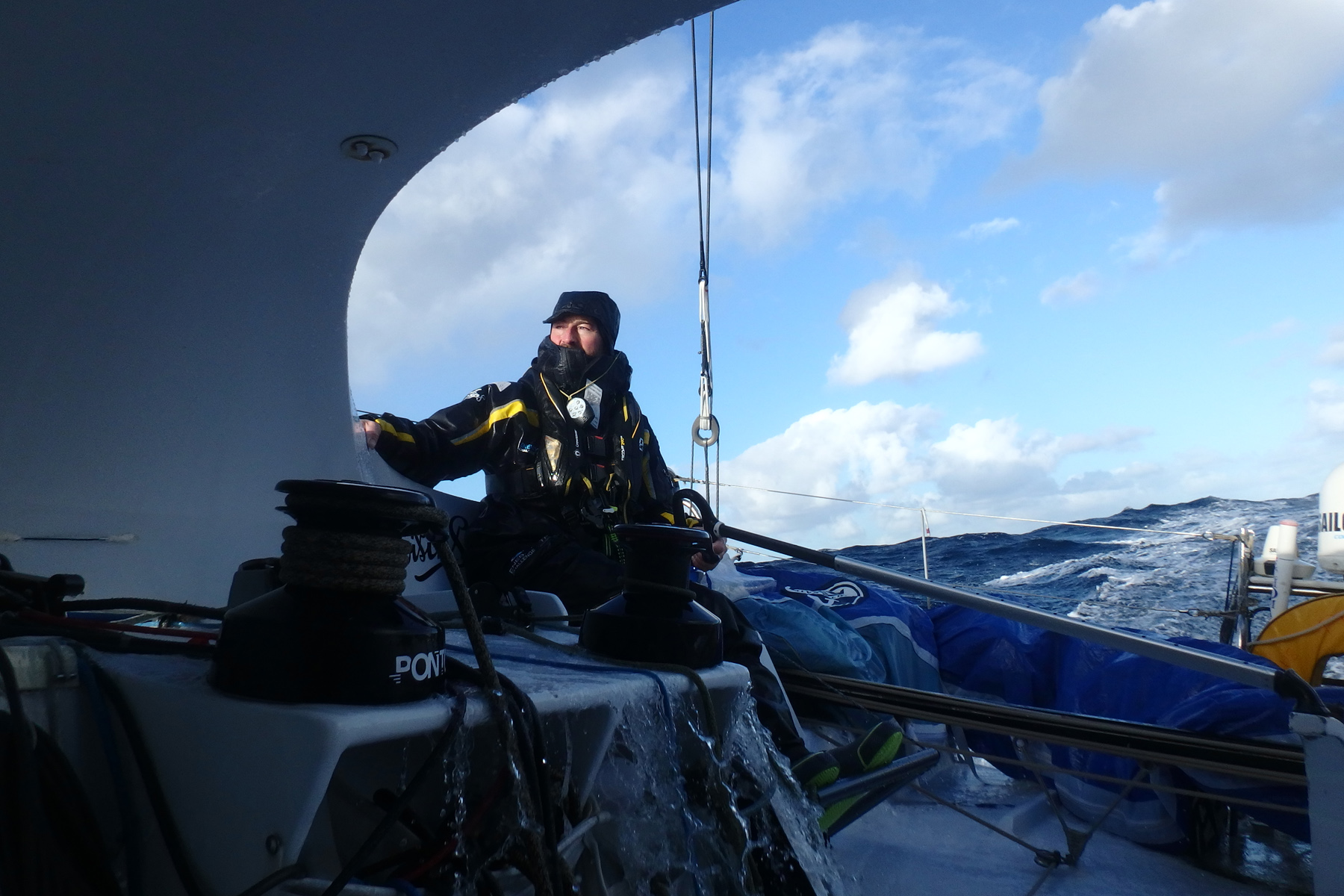 © www.philsharpracing.com
Friday, November 10
V and B surge back through the field as the drag race south in 35-knot north-easterlies, breaking the Class40 24-hour speed record in the process.
377.7 nautical miles between Thursday, November 9, 07:30 (UTC) and Friday, November 10 (07:30) at an average speed of 15.7 knots.
The record is even more keenly felt on board the lead boat by Pablo Santurde as he held previous record of 373.3 miles set in 2016 with Gonzalo Botin on Thalès II.
Early leader and one of the Class40 French favourites, the newly-launched Carac, has slowly been dropping off the pace in the last few days and it is becoming clearer why as it heads for Funchal in Madeira. Louis Duc, third in the race two years ago, needs medical attention following a violent blow to his knee.
It is a crucial blow for the race and leaves the two latest generation Manuard designs, V and B and Aïna Enfance and Avenir, knowing they will be unmatched for speed in the beam reaching trade wind conditions on the other side of the Doldrums. Carac, a just-launched Lombard design and unproven in competition,  was the talk of the pontoon with its huge and powerful bow.
Five days after leaving Le Havre in Normandy, the Class40 have already completed almost a third of the race.
Imerys Clean Energy opens up lead of 42 miles, which will prove to be the largest lead for any boat at any stage of the race.
This lead would soon be reduced by 30 miles after catching weed on the keel during the night…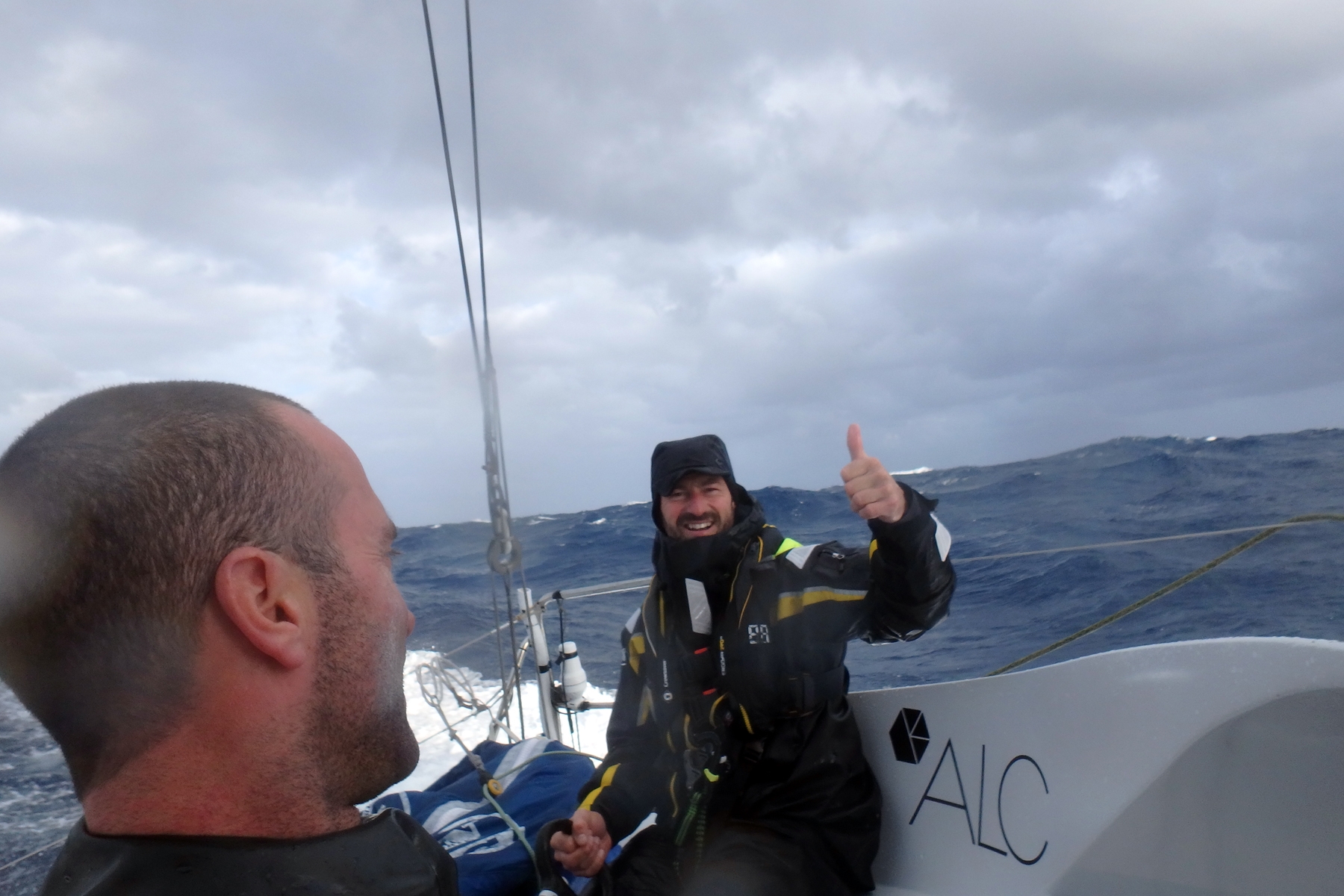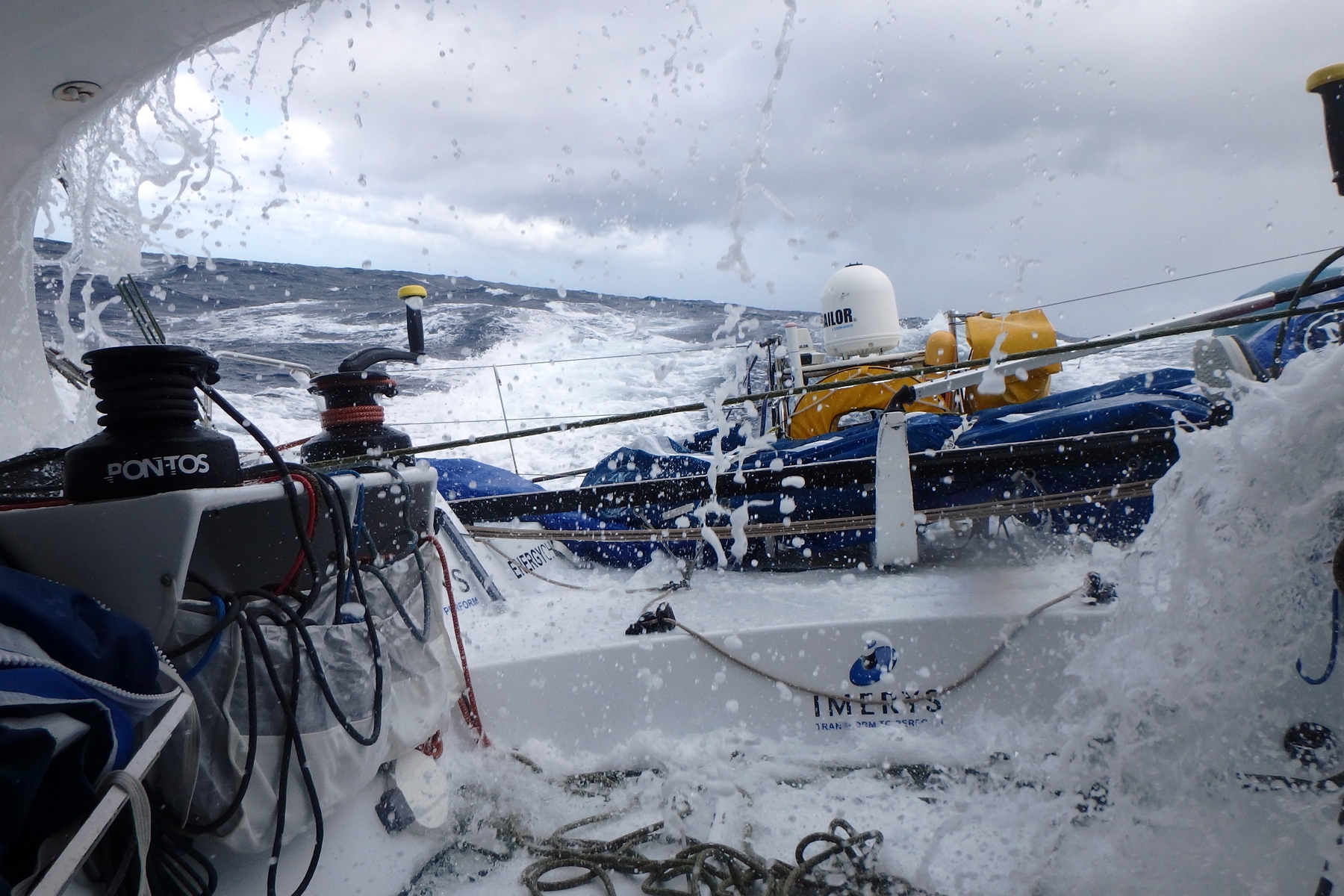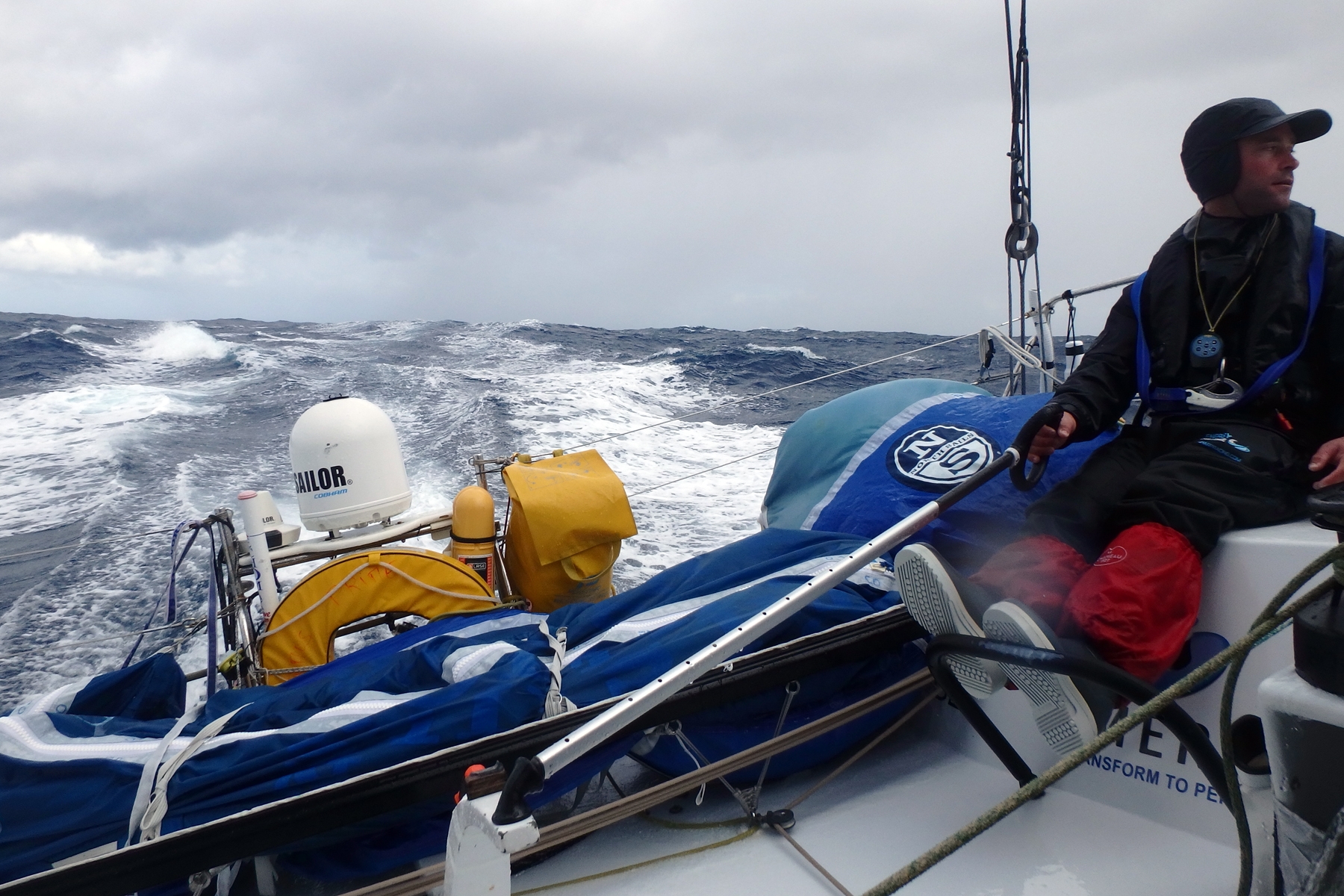 © www.philsharpracing.com
November 10-16
Between the Canaries and Cape Verde, through downwind drag racing and softer stuff, the three podium boats clearly separate, with 5-10 miles between them on the ranking and only 20 miles of lateral separation.
Thursday, November 16 – The Doldrums
Watching a suddenly active and spreading Doldrums catch the Imoca to the west, they take an easterly entry. But the leaders are slowed and caught.
3 becomes 5
The ITCZ extends 500 miles north to south; "a historic Doldrums, we're told" says Arthur Le Vaillant, skipper of second-placed Aïna Enfance and Avenir.  Teamwork40 joins the three and briefly on the morning of Friday, November 17, Imerys Clean Energy, the most westerly boats, slips to fourth. Région Normandie Junior Senior by Evernex closed to 20 miles.
Saturday, November 18 – Is 20 miles enough?
The lead group emerges from the Doldrums in the small hours of Friday into Saturday. Imerys Clean Energy's westerly strategy pays out with a 20-mile lead. But Sharp and Santurde knows that they are slower in the reaching conditions of the south-east trade winds.
"Last night was hard as it was still a little soft, and our English friends cleared off," Arthur Le Vaillant, co-skipper, Aïna Enfance et Avenir, said. "We're a little faster but Phil (Sharp) knows his boat well. There's not going to be much in it and we hope to get back in touch with him."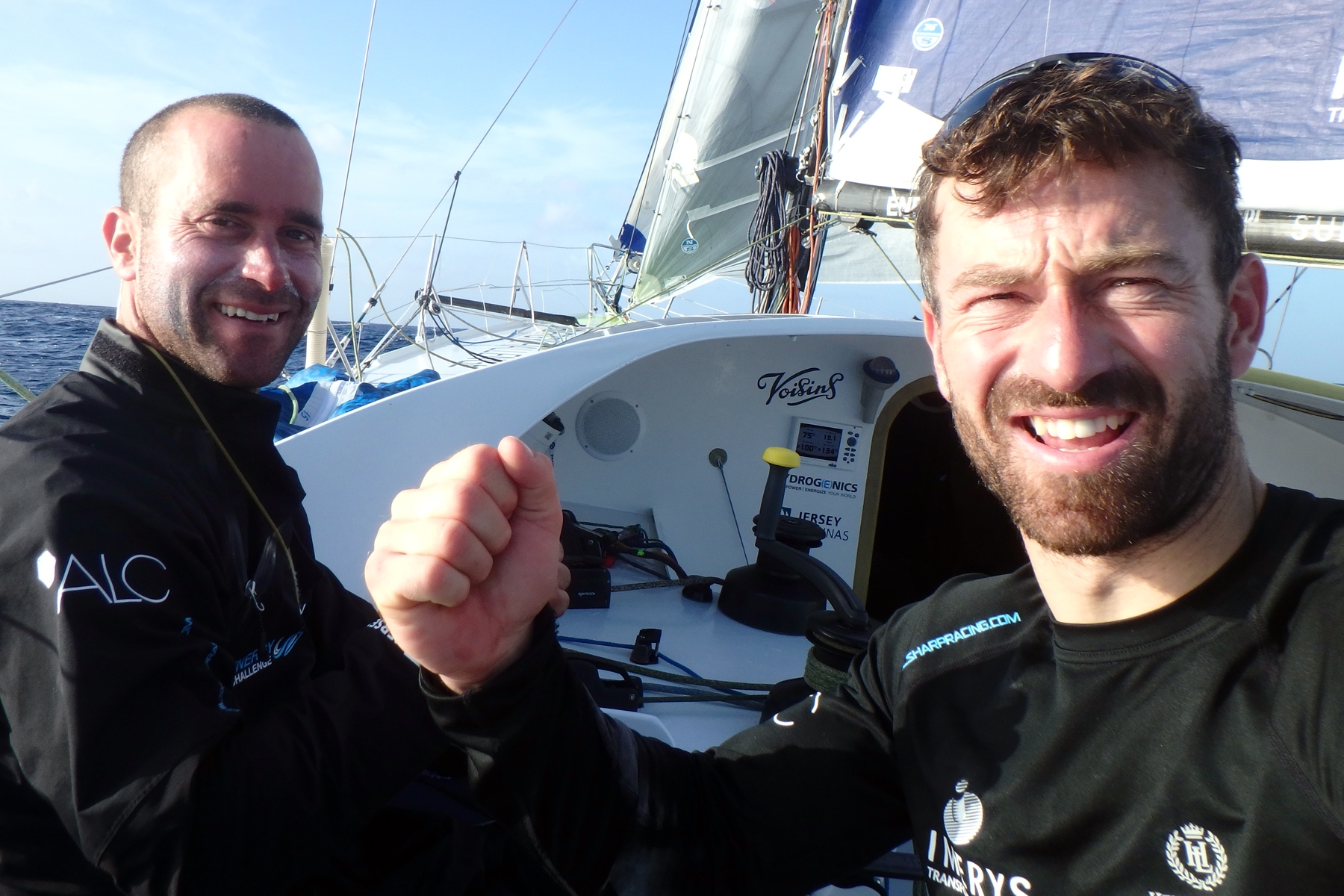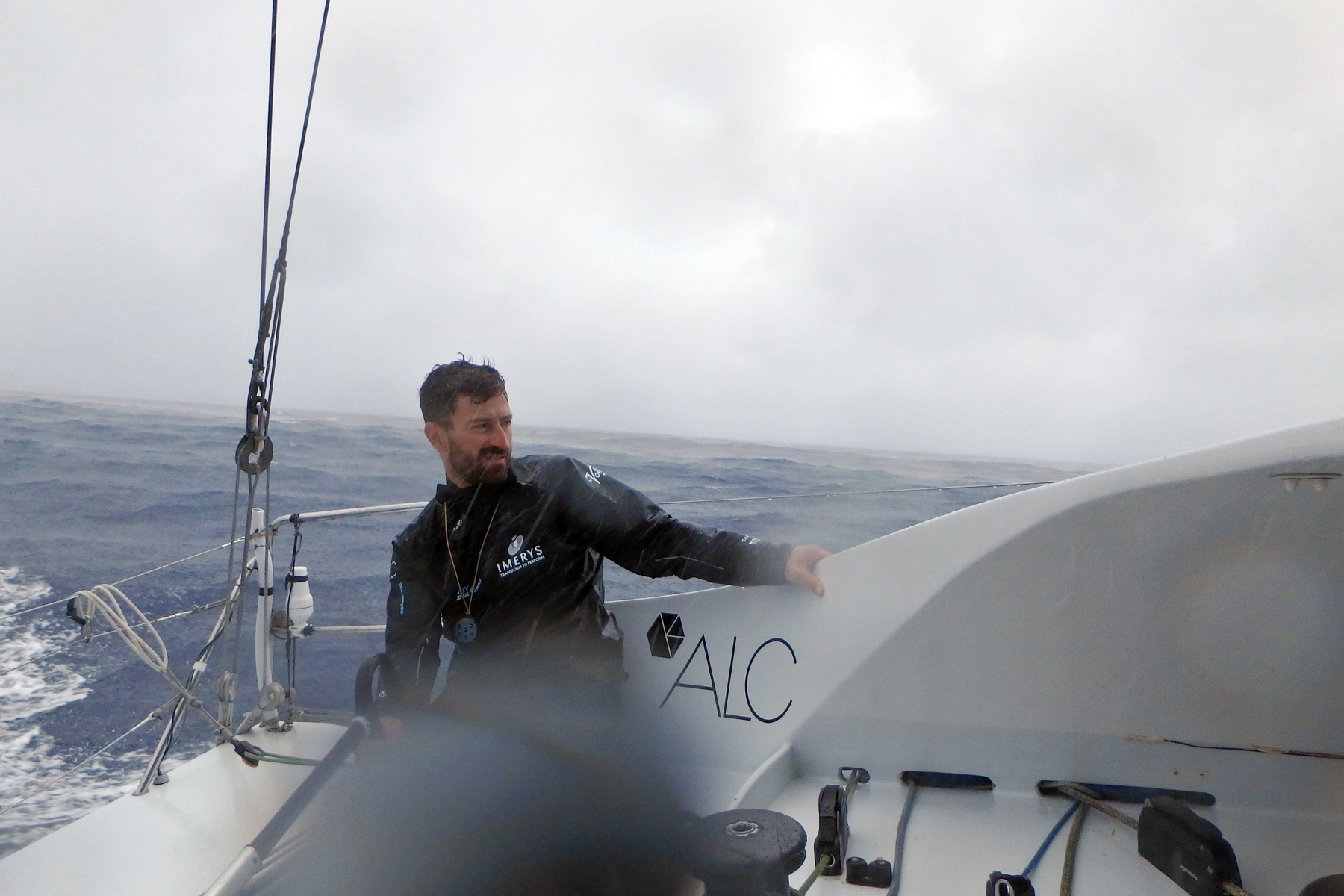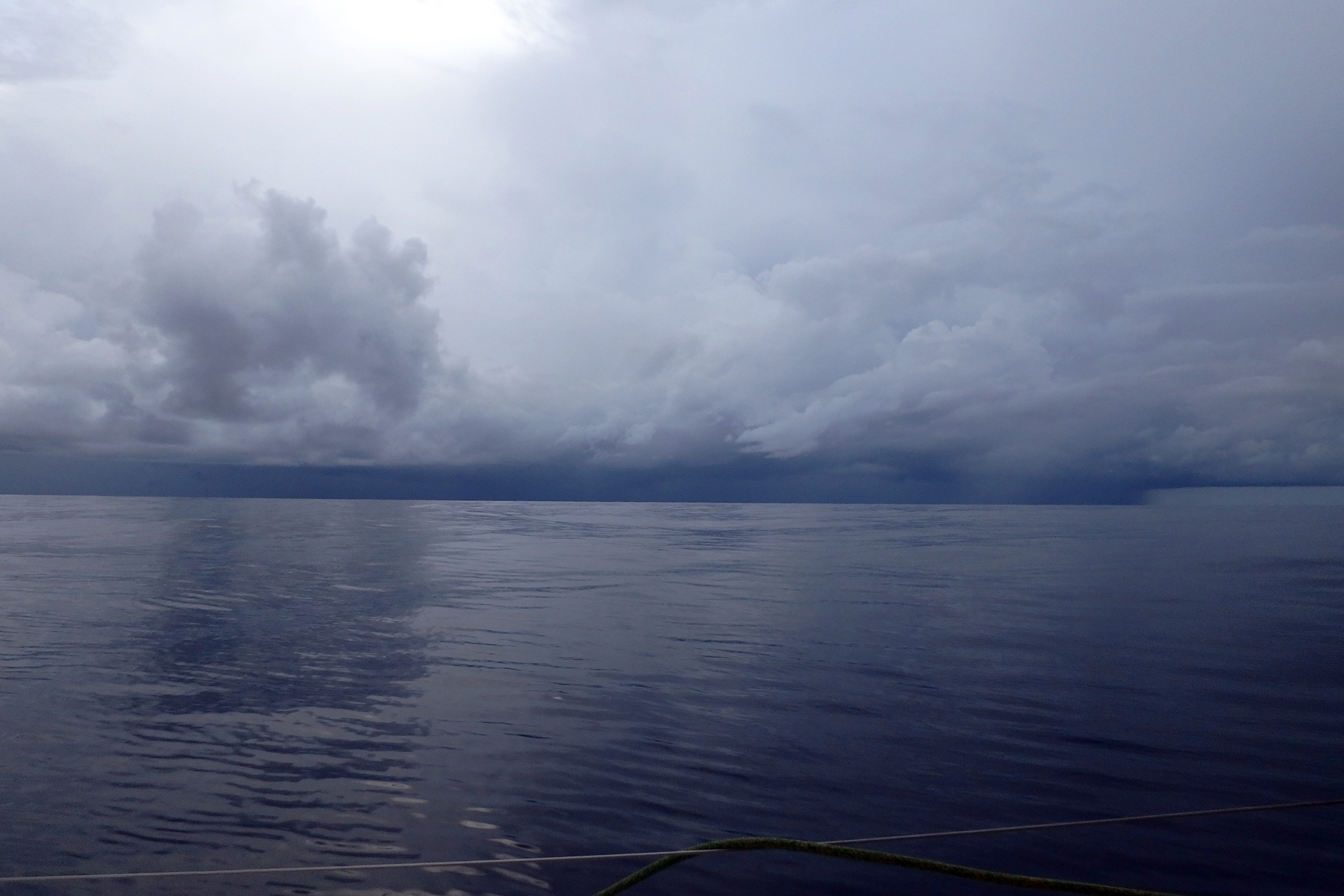 © www.philsharpracing.com
Monday, November 20 – French and Physics
Reeled in mile by mile with a cruel, crushing inevitability, Aïna Enfance et Avenir sailed passed Imerys Clean Energy at 07:00 UTC and pushed into third by V and B at 12:00 UTC. Imerys Clean Energy had held the lead for 12 days (bar the blip of a few hours in the Doldrums). There proved to be no way back.
The four lead boats are all Manuard design, but the two French 40ft monohulls are the version 3 of the Mach 40 design and Sharp's version 2 is simply slower in the reaching wind angles they have had since the Doldrums. Imerys Clean Energy was the boat that won the 2013 Transat Jacques Vabre and Sharp has restored it after it fell into serious disrepair, but the technology has moved on. It may only be a half a knot difference, but over 24 hours that is heartbreaking – or like being in slowly closing vice.
"According to Sam (Manuard, the designer) the new generation boats are clearly faster over 15kts of wind and True Wind Angle (TWA) between 80 and 120 degrees," Sharp's team said. "This advantage is evident: Aïna has managed to do 22nm more than Imerys Clean Energy since the exit from Doldrums – on average sailing 5% faster. Sam did a perfect job in designing the latest generation."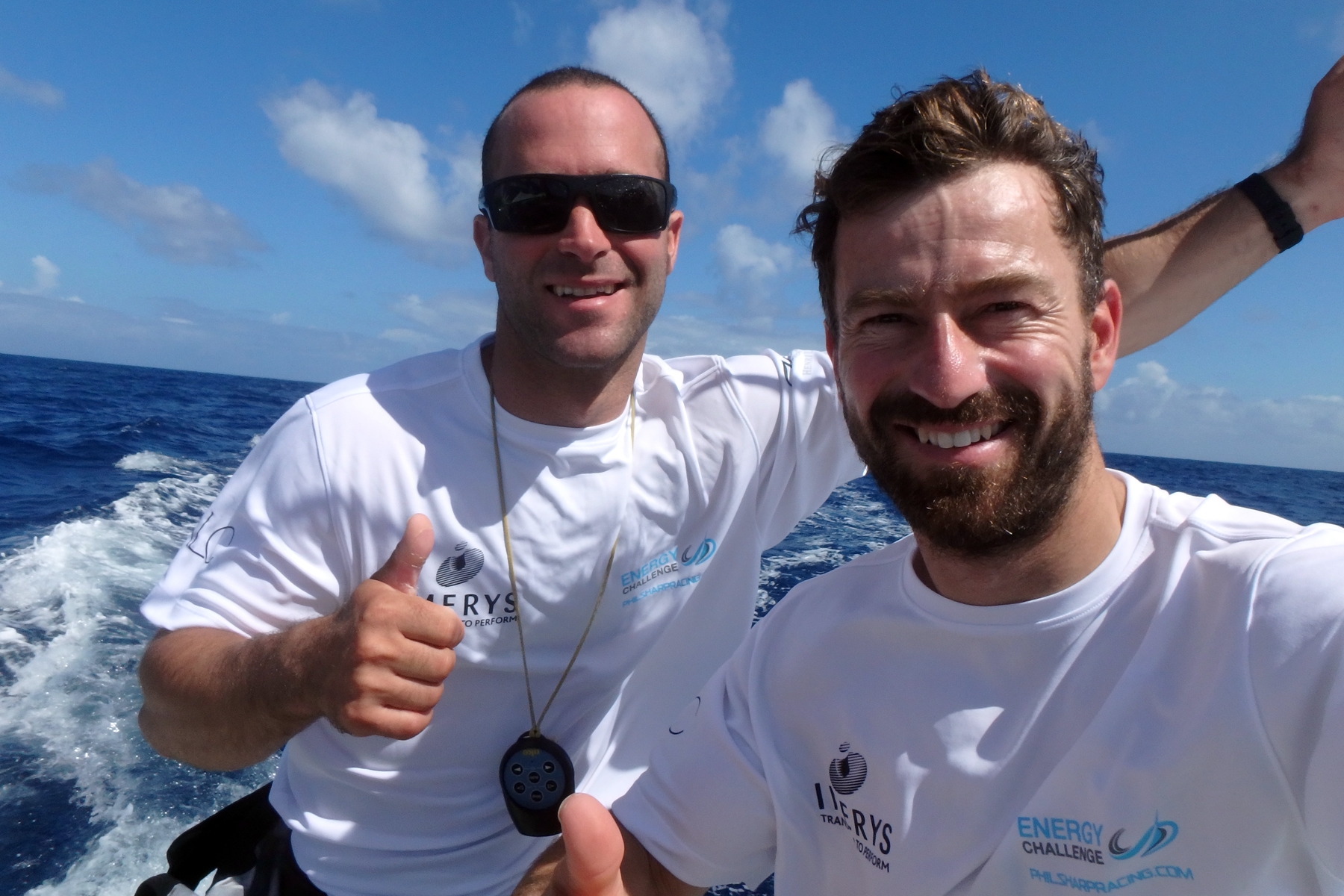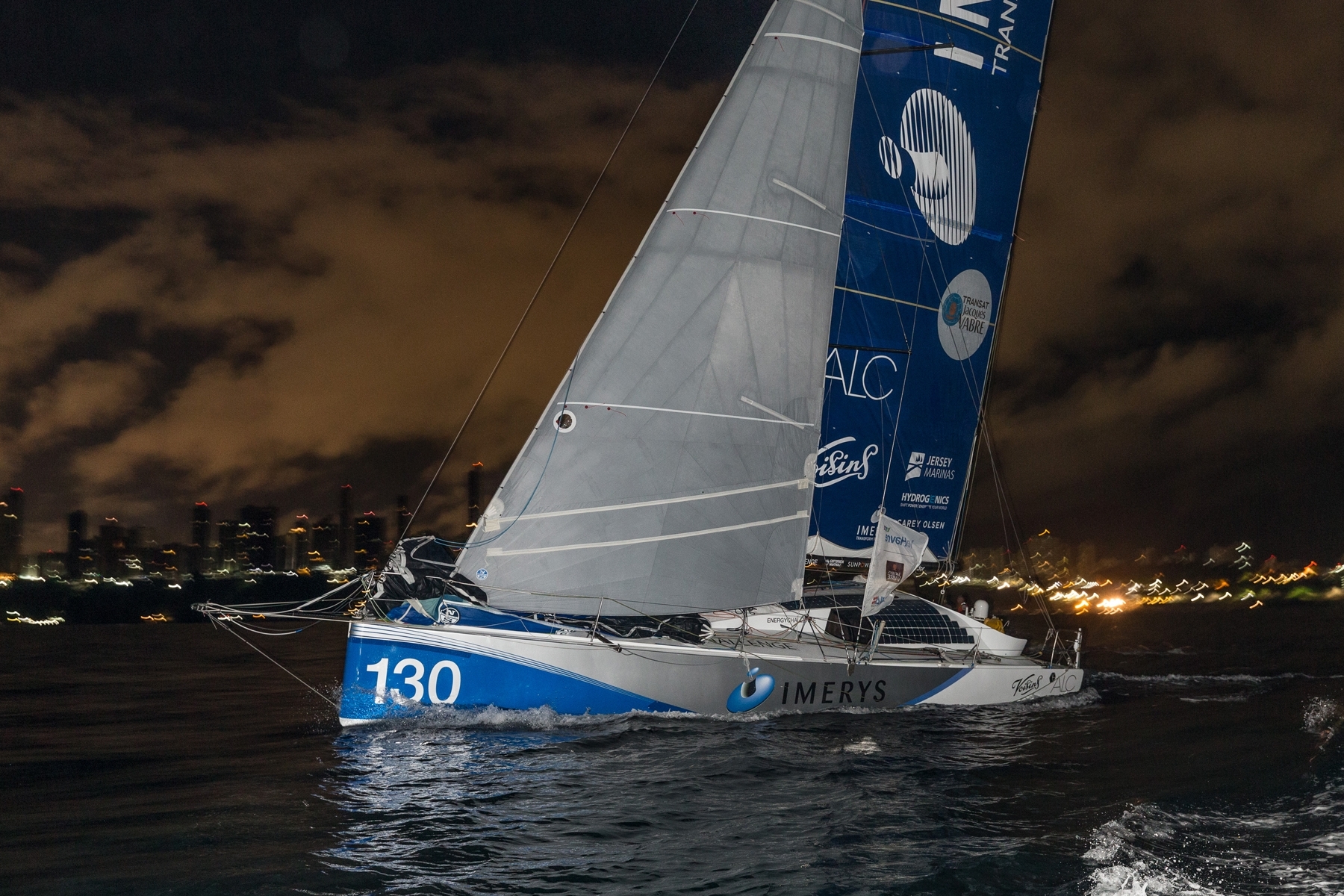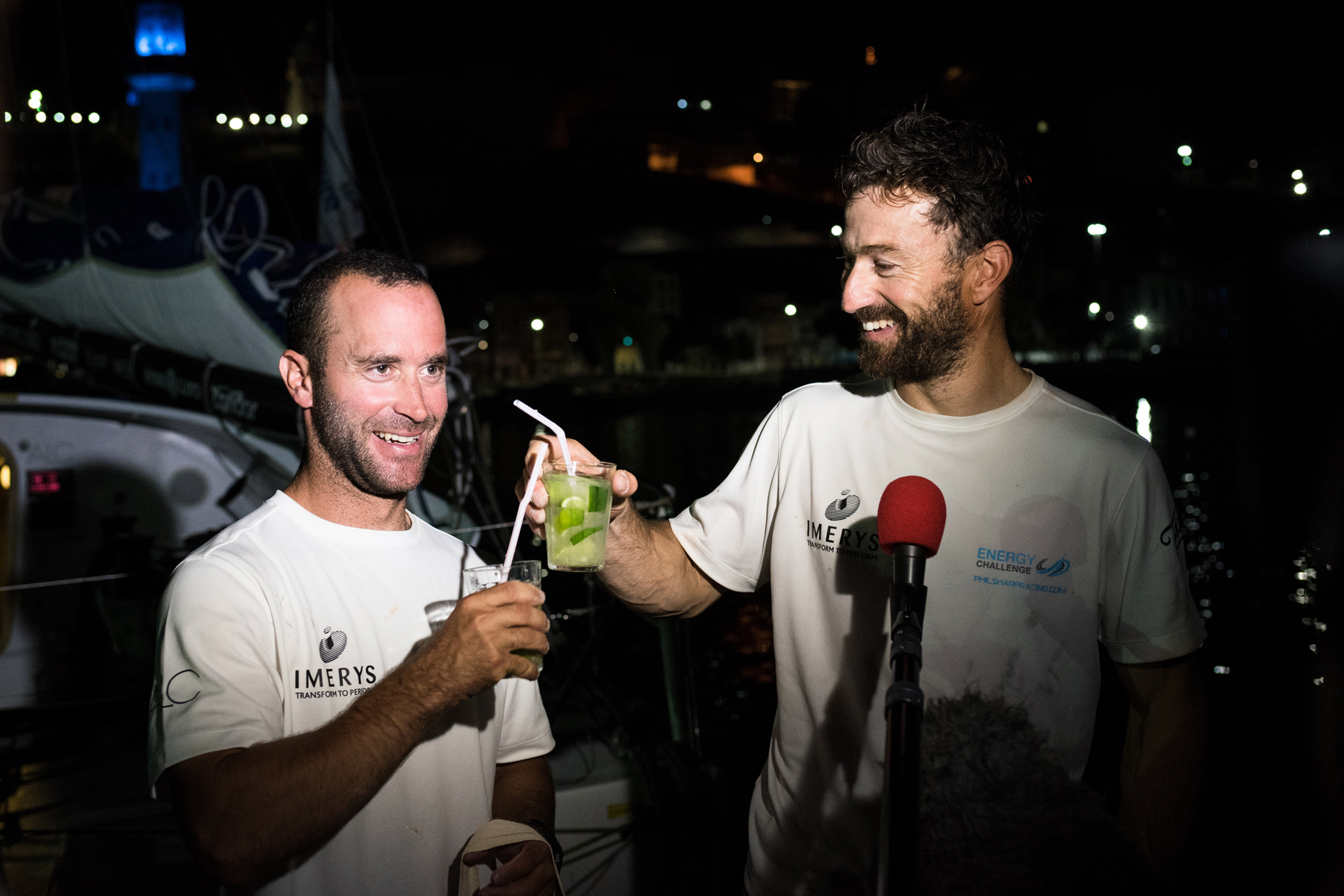 © www.philsharpracing.com  /  © Jean-Louis Carli ALeA TJV2017
Wednesday, November 22 – V and B strike
Aïna Enfance et Avenir, the newer of the two lead boats, leads to Brazil and in the match race along the coast for two days. They report tearing their spinnaker and getting their keel caught on a net overnight. They are neck-and-neck, but V and B four miles west, gradually turn a 3.6-mile deficit at 06:30 UTC into a 1.2 lead at 14:30, when Aïna Enfance et Avenir gybes closer to the coast and V and B gybes ahead to cover them.
Sorel, who finished second in V and B with Sam Manuard, the designer of both lead boats, as his partner, is not to be denied this time.
V and B crosses the finish line in the Bay of All Saints in Salvador de Bahia on Wednesday, November 22, 2017 at 23:19:15 (UTC), 17 days 10 hours 44 minutes and 15 seconds after leaving Le Havre, Normandy France.
Aïna Enfance and Avenir (Aymeric Chappellier / Arthur Le Vaillant) finish second, just 17 and 42 seconds behind with Imerys Clean Energy only 35 miles from the line.
Imerys Clean Energy complete the podium finishing third, crossing the finish line 05 hours, 14 minutes and 26 seconds behind the eventual winner, V&B on Thursday 23rd of November at 04:33:41 (UTC) with a race time of 17 days, 15 hours 58 minutes and 41 seconds. Over the theoretical 4,357nm distance, Imerys Clean Energy sailed an actual distance of 4,539 nm, averaging 10.70 knots.
Imerys Clean Energy key achievements:
Leader for 12 of the 17 day race
Highest leading advantage of 41.1nm between 1st and 2nd place, the nearest being 9.1nm
Ranked daily on the podium
Winner of the doldrums strategy, achieving a 20.4nm advantage on exit
Highest lead gained in severe oceanic conditions
Loss of core weather data from day 3; intermittent low detail weather data from day 6 until the finish
First over the start line
New boat speed record achieved at 25.5 knots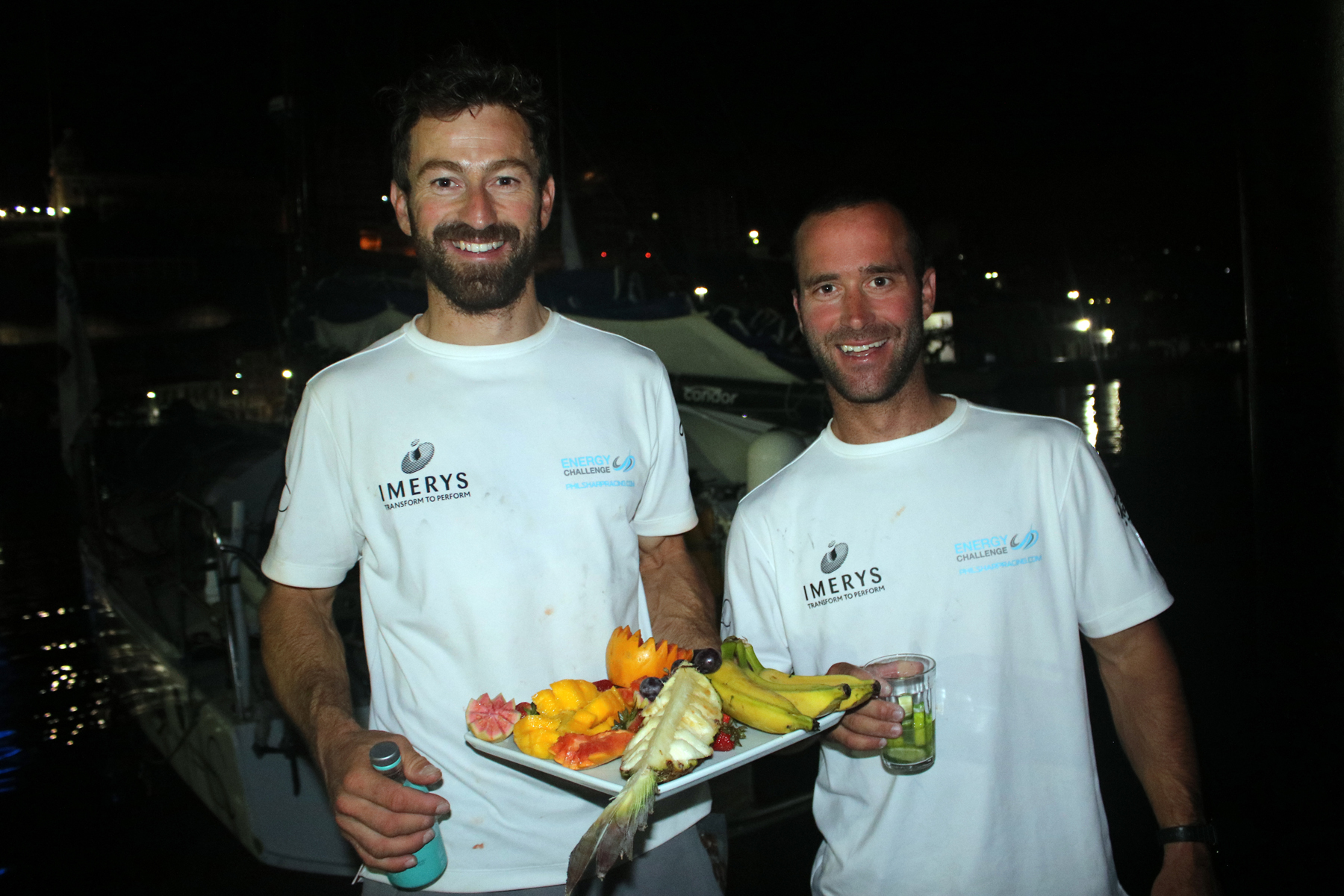 © www.philsharpracing.com