Key achievements:
Leader for 12 of the 17 day race
Highest leading advantage of 41.1nm between 1st and 2nd place, the nearest being 9.1nm
Ranked daily on the podium
Winner of the doldrums strategy, achieving a 20.4nm advantage on exit
Highest lead gained in severe oceanic conditions
Loss of core weather data from day 3; intermittent low detail weather data from day 6 until the finish
First over the start line
New boat speed record achieved at 25.5 knots
Phil Sharp and Pablo Santurde racing Imerys Clean Energy have completed the podium finishing third in the Class 40 division of the 13th edition of the Transat Jacques Vabre. The duo crossed the finish line in the Bay of All Saints in Salvador de Bahia, Brazil on Thursday 23rd of November at 04:33:41 (UTC) with a race time of 17 days, 15 hours 58 minutes and 41 seconds. Over the theoretical 4,357nm distance, Imerys Clean Energy sailed an actual distance of 4,539 nm, averaging 10.70 knots, finishing 05 hours, 14 minutes and 26 seconds behind the eventual winner, V&B.
Phil comments on the experience: "What an incredible fight we have been through over the last 2.5 weeks. An intense 3-way boat design battle against the Mach 3s Aina and V&B, a battle against different weather extremes, and a battle against our own personal limits.
"I'm not going to hide the fact that watching our lead wither away over the last few days has been difficult to swallow. Though it's not exactly the result we had hoped for, or had worked towards during this race, I am satisfied to say that we really did give it our all. We pushed the boat and ourselves to 100% over the whole race and made the most of opportunities that came our way. We showed that we had pace in the strong winds by building a 40+nm lead, and despite losing most of this due to hooking a massive chunk of weed on the keel during the night, we succeeded in escaping the doldrums with a 20nm lead, which was a very important objective."
Together Phil and Pablo set a new boat speed record powering Imerys Clean Energy up to 25.5 knots "during one crazy night west of Portugal rocketing downwind in 35 knots of wind", explained Phil. Eventually however, it would be raw boat speed that would hold the duo back. Phil continued: "Unfortunately, the cushion from the doldrums wasn't enough to fend off the newer, more powerful Mach 3s in the South Atlantic with the reaching conditions that we faced. Once we finally entered a level playing field off Recife, it was too late to catch up and so with nothing to lose we tried the only alternative, to go offshore, which sadly gave no advantage. In the end this was a game of boat evolution, and the latest design won."
Class 40 Mach designer Sam Manuard comments on the evolution between the 2nd and 3rd generation boats: "Whilst Phil's Mach 2 is a great all-rounder, the Mach 3 evolution was designed to achieve different goals aiming to increase performance without making too much of a sacrifice on the Mach 2's great features. Clearly the gains are in reaching and they also have a sweet spot in certain downwind conditions. Phil and Pablo have done an amazing job, once again proving what great sailors they are!"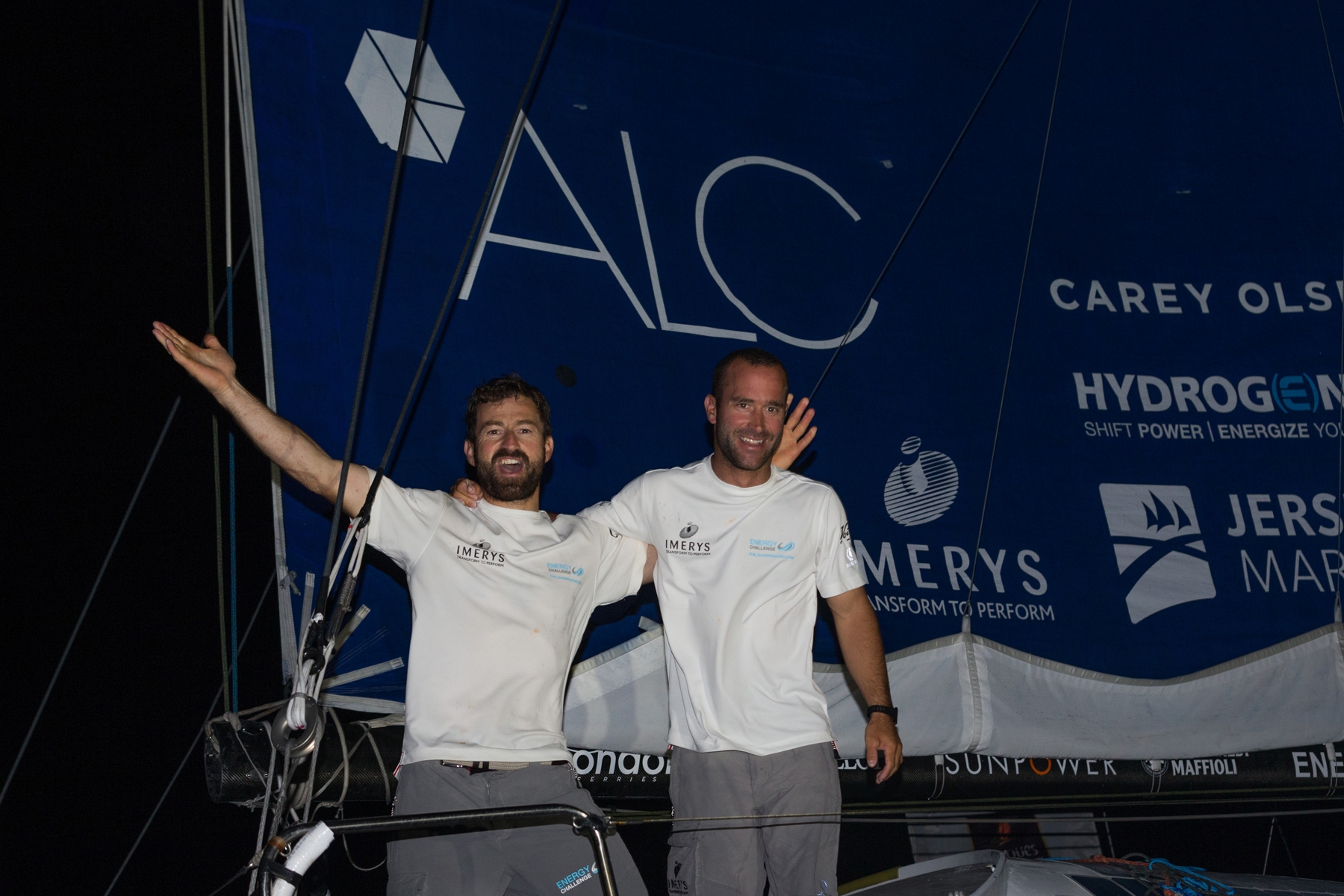 @Jean-Louis Carli / ALeA / TJV2017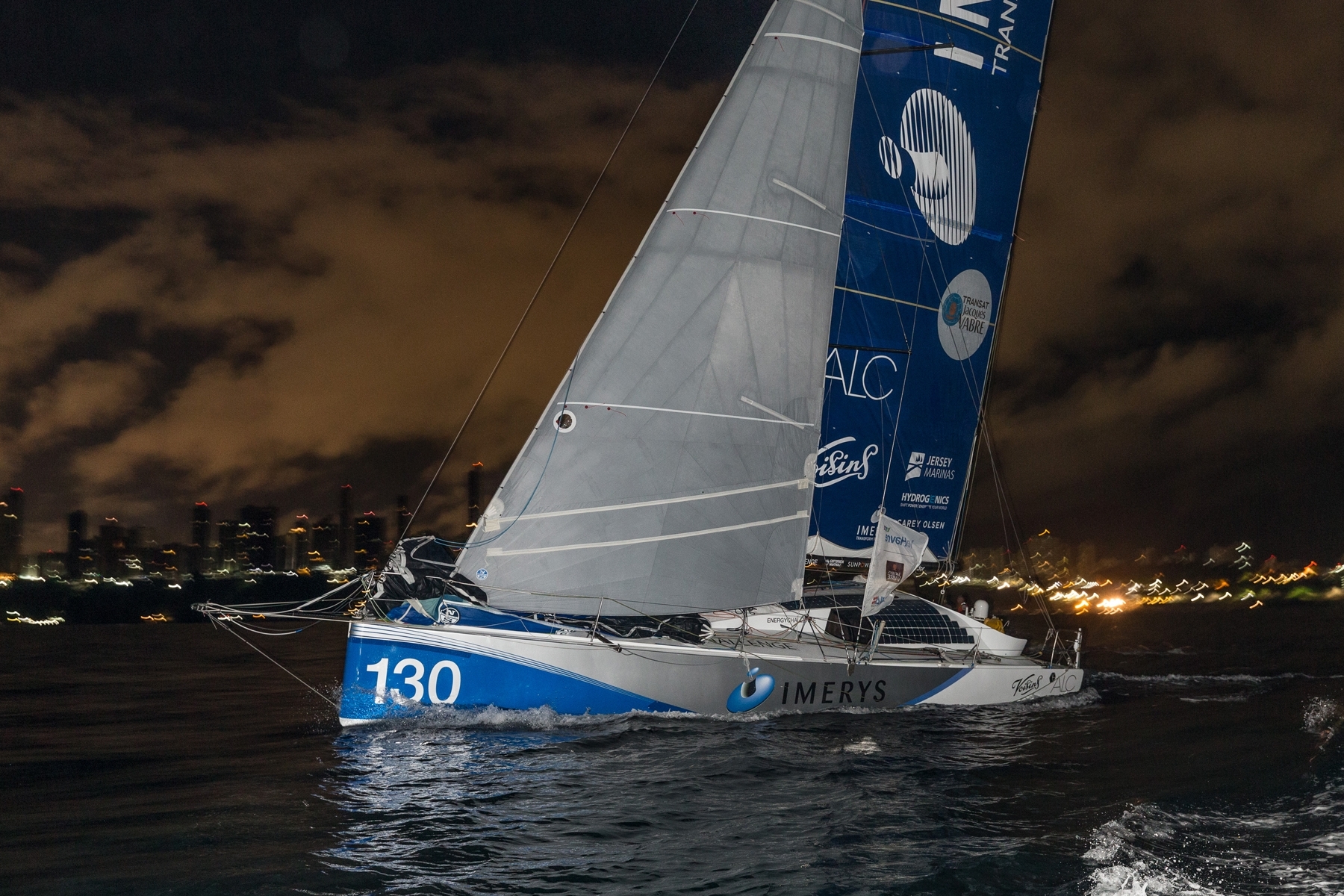 @Jean-Louis Carli / ALeA / TJV2017
"It has been a great privilege to sail with Pablo. I couldn't have asked for a more motivated and skilled co-skipper for this race. We had a lot of laughs on board, even in the most extreme of circumstances, and above all he even learnt how to make a damn fine porridge to alleviate my morning cooking duties." Phil commented.
Co-skipper of Imerys Clean Energy Pablo Santurde comments: "I am really happy with the fact that we never gave up and we fought to the maximum. It has been a fantastic race – I had everything I could have asked for: competition, perfect sailing conditions and great company. Losing our advantage has been tough and has been difficult to go through, but I guess in a few days we will give more value to this 3rd place. It's a complete contrast to my last TJV when four years ago we were forced to stop at the beginning of the race and we ended up catching up over a long distance. As always it has been a great opportunity to share this race with Phil, with lots of lessons learned from him and great memories together!"
Most memorable moment
"I will never forget one day in the doldrums that was particularly tortuous. With not even so much as a puff of wind in sight, we were parked in the ocean with the sails draped and swaying from side to side… A huge thunderstorm was about to hit and we could feel this pressure bearing down on us… I said to Pablo 'This is a crazy place… I feel pretty small right now, like a cork bobbing on the water' and Pablo replied: 'It is like we have been cast adrift in the middle of an ocean!'… It really was." Phil commented.
Food for thought
One of two teams racing on a Mach 2, the other being Teamwork40 – We have to ask ourselves what result we could have expected had Phil and Pablo been sailing on a latest generation boat…
As the final race in the 2017 Class 40 Championship, Phil has consistently delivered podium results this year. The objective remains to make the transition to a round-world IMOCA 60 campaign and to complete the journey to replacing the diesel engine. The Energy Challenge's clean development is part of a long-term objective to enter the Vendee Globe 2020 with a highly competitive project, but uniquely with zero fossil fuels aboard. With Class 40 Title Partner Imerys providing continued support for the next 2 years, the team are looking for additional partners to grow the Energy Challenge in line with this Vendee Globe vision.
Head of sponsorship at Imerys Anne Fauconnier comments: "Imerys is proud of Phil and Pablo's incredible performance. They did an exemplary race. On behalf of all Imerys employees I want to congratulate them for their determination, winning mind-set and this wonderful result."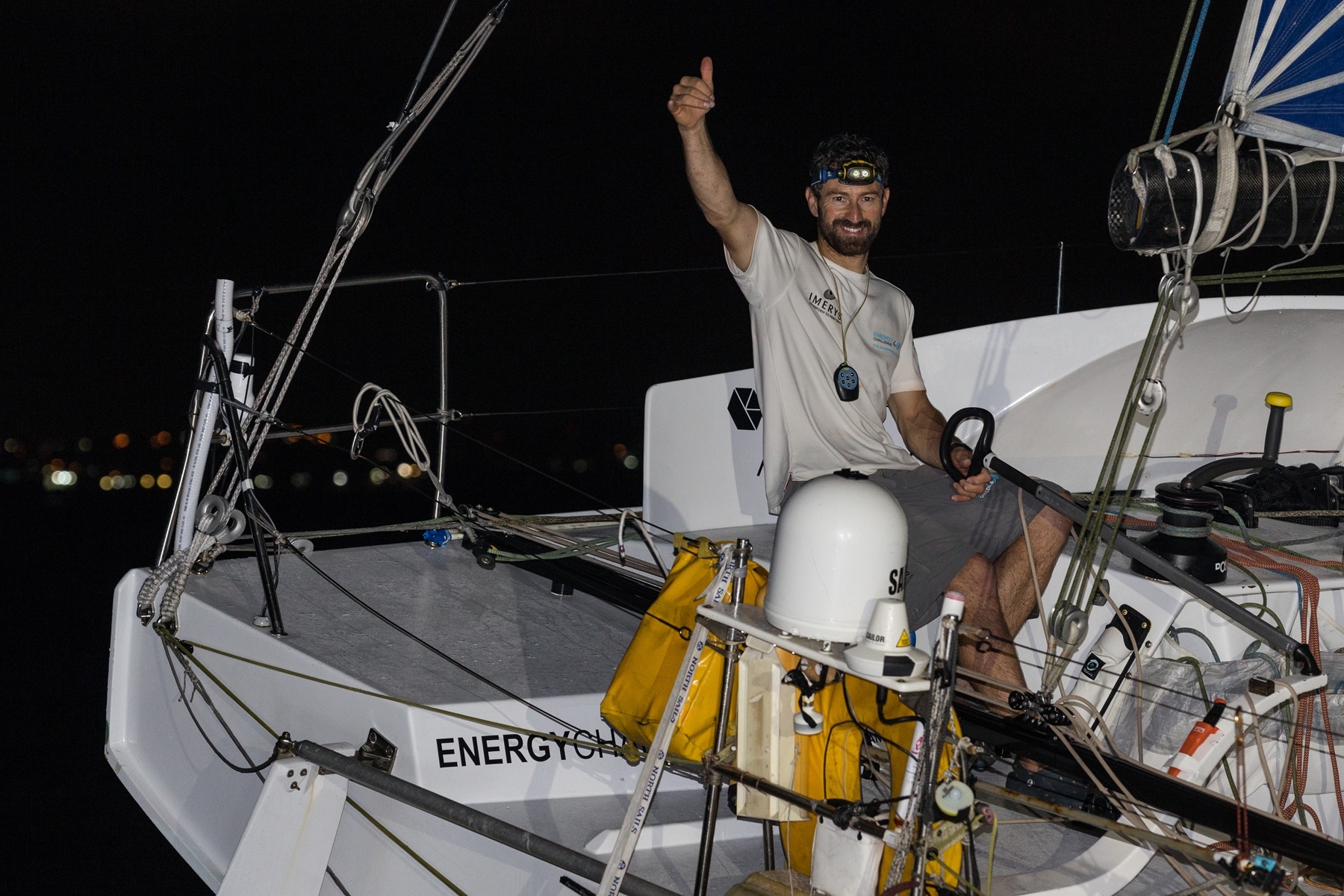 @Jean-Louis Carli / ALeA / TJV2017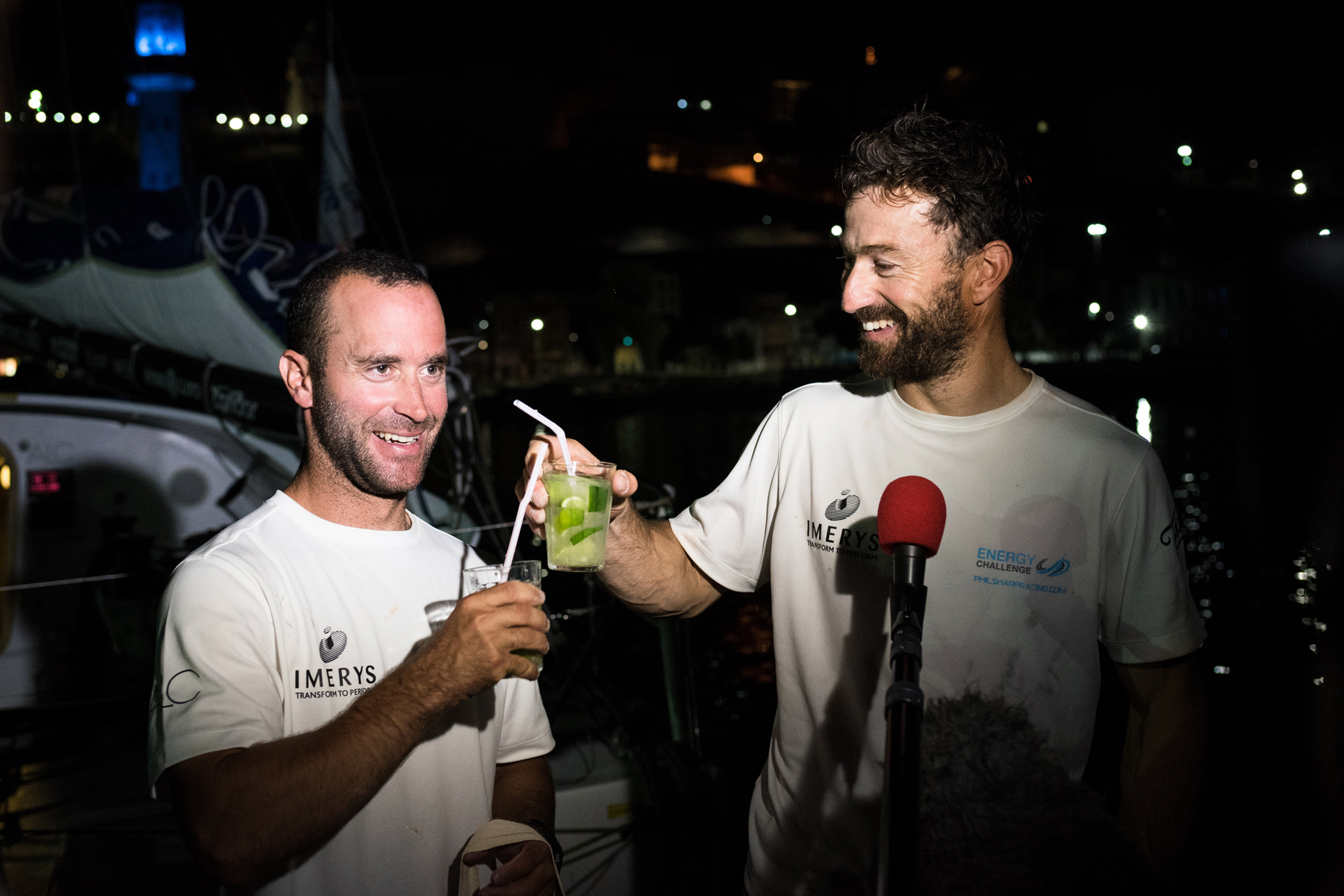 @Jean-Louis Carli / ALeA / TJV2017