Phil Sharp Racing's Length of Britain sailing challengers leave Falmouth this evening ready to start dash from Land's End to John O'Groats.
Planned start time is sunrise Friday 11th at Land's End
ETA John O'Groats Monday morning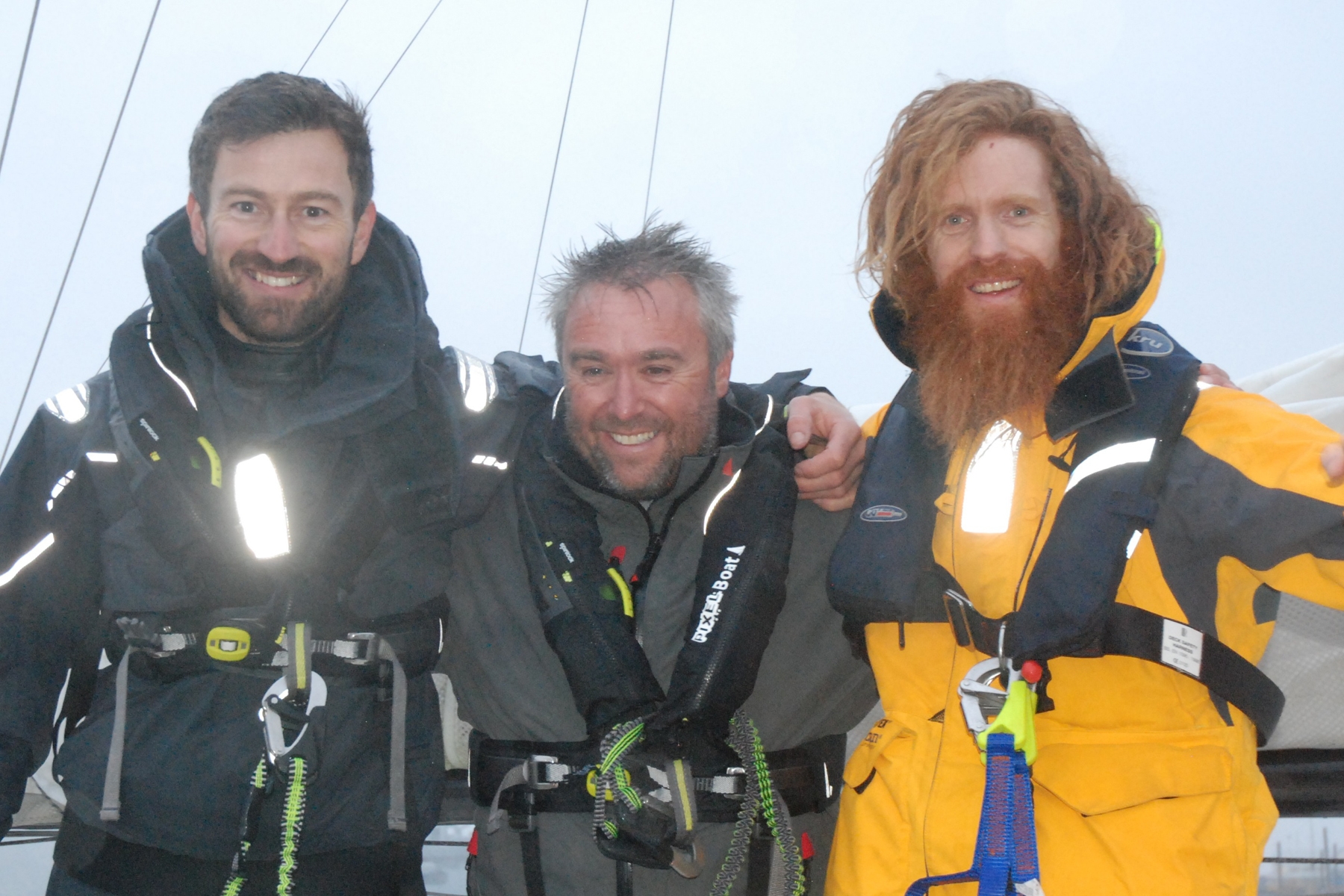 Jersey based British sailor Phil Sharp and crew finally cast off their docklines from Falmouth's Port Pendennis Marina setting off into a nasty, dirty December night to make the seven hour passage around to Land's End where they will start their bid to set an inaugural benchmark for sailing from Land's End to John O'Groats.
Their weather window is not ideal. They will start in strong winds and big, leftover seas for fast passage to the east of Ireland and now face a transition zone of light winds Saturday off Scotland's west coast which may slow them before they head round Cape Wrath, expecting to finish at John O'Groats early Monday morning.
After being on hold since last Friday waiting for big winds to clear the trio will still be seeking to outrun the next big Atlantic winter storm which will hit the top of Scotland Monday and Tuesday. But, for the trio, this evening the hours of waiting and continually prepping the Akilaria RC2 Class 40 yacht came to an end. Perhaps the most nervous of the trio is the intrepid Sean 'The Beard' Conway.
Conway, instantly identifiable by his unruly flame red beard and mop of flyway hair, is bidding to add a fourth end-to-end of Great Britain adventure. He has already run and had already cycled from Britain's south westernmost tip to the most north easterly tip. In freezing temperatures in November 2013 he finished an incredible 135 days swimming from end to end.
Now Conway aims to add a fourth end to end: sailing. Ironically his sailing experience is limited to living on an RAF gunboat in Worcester and three long months surviving aboard a tiny 25 ft 11in South Coast One Design – which he bought sight unseen off E-Bay for £4000 – which became his support vessel and his home during his epic Land's End to John O'Groats swim. But even then the tiny sailing yacht was his bed each night and he never sailed. One thing Conway is sure of is he suffers acute seasickness!
Phil Sharp is using the passage as a chance for a few days of training for the Vendée Globe solo non-stop race around the world which starts November 6th next year. While he awaits final details of his IMOCA 60 yacht to be completed, he sails this Class 40 with Conway and English round the world racer Alex Alley.
"We are itching to get away. It is exiting to be getting under way finally. I wanted to do something just a little bit extreme, to do some extreme sailing this winter and to start some Vendée Globe training." Said Sharp who won his class in the solo Route du Rhum transatlantic race from St Malo to Guadeloupe in 2006. He has no qualms about taking Conway who has limited sailing experience. In 2006 he raised money for his Route du Rhum challenge by taking six paying corporate guests round Britain on a similar Class40 yacht.
"We are 11 months from the Vendée Globe start. But I woke up one morning with this idea and now it is a good course which I hope will create some interest in the Vendée Globe. And it is a nice course because in theory, it should mostly be downwind. And it an iconic route that everyone knows but no one has ever set down a record time for. And when I get the IMOCA 60 footer for the Vendée Globe hopefully I'd like to come back and do the course solo next year." Says Sharp. "And Sean will be great for keeping us positive and focused. He will find it tough I'm sure but will find his sea legs by Saturday we hope."
Conway smiled:
"I will just be doing what I am told for the next four days. I will be trying to help out where I can making the teas and coffees and food and being ballast where required. Phil is a great sailor and I have been briefed what to expect. I am expecting to be sick for 60 hours and so anything better than that is a bonus. I am looking forwards to it. My biggest concern is the seasickness. I will be gutted if I am put to bed for all of it. It is two years now since I finished swimming Britain. Knowing what I know now, and the issues I had swimming around Cape Wrath for example in 20 ft waves, December now, big storms coming it can be nasty. And the difference with this is that my previous adventures have been solo, success or failure is down to me. But I am trusting and Phil is a good sailor."
All things being equal, fair winds and all that, they should pass Islay – home of whisky sponsors Bruichladdich – very late on Saturday evening.