Hyundai Motor France come on board the Energy Challenge as Official Partner;
Phil Sharp, skipper of Class40 Imerys Clean Energy joins as an ambassador for clean energy.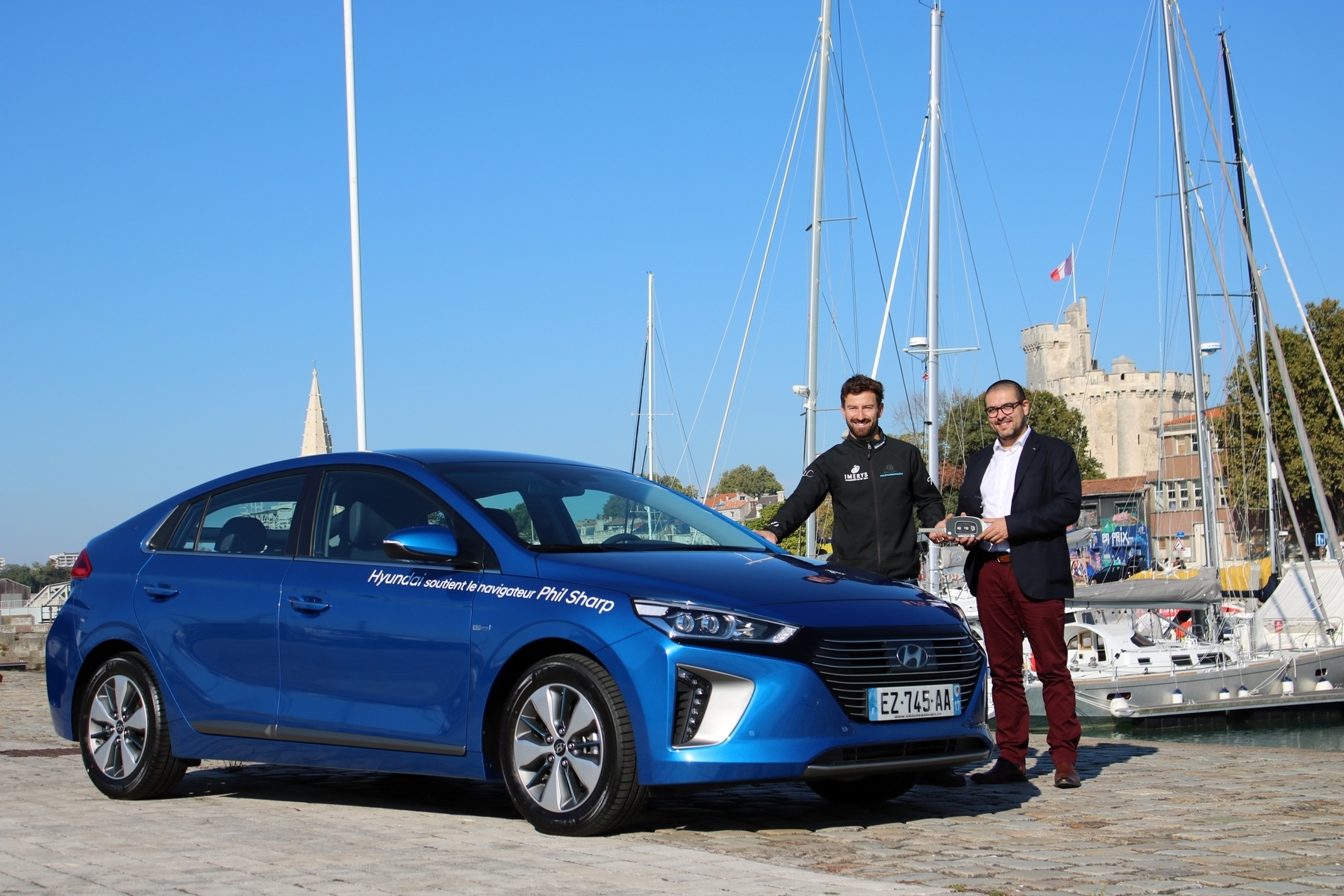 The clean innovations developed and demonstrated by the Energy Challenge has attracted the support of Hyundai Motor France, whose Group aim under project BLUEDRIVE is to reduce air pollution, CO2 emissions and energy consumption.
Their 2020 goal to create a full line-up of eco-friendly vehicles aligns with the Challenge's innovation accelerator mission to sail around the world in the next Vendée Globe using renewable hydrogen for power generation. For this, the Challenge are bench testing a hydrogen-electric clean energy system to replace the on board diesel engine. Hyundai Motor too see hydrogen energy as the future fuel with its release of the NEXO zero emissions car. However, as the world awaits the hydrogen infrastructure roll-out, the Challenge team will make the most of silent and cleaner driving with a new IONIQ Plug-in Hybrid car.
"We are excited to have Hyundai Motor France joining us as they are a very innovative and forward looking company, and in particular recognise hydrogen as a crucial fuel to decarbonise transport. This aligns very closely with our vision to demonstrate such cutting edge technologies in marine, and indeed there is a great deal of advanced technology from automotive that can be applied to the maritime sector.
"As a racing team following a Championship across Europe, logistics can be very demanding, which makes this partnership all the more special safe in the knowledge that we can now be clean on the water and on land." Commented Phil Sharp, skipper of Class40 Imerys Clean Energy.
"Sailing is a very unique sport because it is one of the few to combine both advanced technology and the environment, which complements our goal to delivering a full range of alternative technology cars. Phil Sharp's project of aiming for performance as well as zero emissions naturally appealed to us because the automotive industry is also pursuing this course. We are proud today to welcome this new ambassador whose values ​​are common with our brand, and who chose IONIQ, probably our most emblematic model in eco-mobility." Commented Lionel French Keogh, Managing Director Hyundai Motor France.
Phil joins another ambassador of clean energy supported by Hyundai Motor France, Bertrand Piccard, the adventurer and founder of Solar Impulse, which holds the record as the first successful round-the-world solar plane, in addition to Perrine Laffont, Olympic Champion at the 2018 Pyeongchang Games and World Champion in Moguls Skiing.
NEXT RACE
A month until the start of this year's big ocean race, the single-handed Route du Rhum starting on the 4th of November from St Malo, France and finishing in Guadeloupe, Caribbean. Track the race and follow Phil's story on social media and on the team website at www.philsharpracing.com.