3,000 miles into the epic double-handed Transat Jacques Vabre race to Brazil and the notoriously challenging doldrums have lived up to expectations
A close fight becomes even fiercer with the entrance of at least two new players in reach of the Class 40 podium
Imerys Clean Energy stick to their western strategy
After 11 days of racing, Class 40 Imerys Clean Energy continues to be at the forefront of the Transat Jacques Vabre, and is engaged in an intense competition with Aïna, V&B, and now joined by two pursuers, TeamWork40 and Normandy Region SJE.
Skipper of Imerys Clean Energy, Phil Sharp comments: "Our race through the tropics this week couldn't have been more of a contrast to our windy, wet, and fast assault down the North Atlantic. Just a few days ago we were sailing in the sort of conditions you dream about for an ocean escape: 15 knots, downwind, spinnaker up, t-shirt sailing, but sadly this is no longer the case. Since entering the dreaded doldrums we have been in horrendously fickle wind. Trickling further south, we've had average speeds of around 2 knots – as Pablo said yesterday: It's like we have been cast adrift into the middle of the ocean…
"Yesterday was the hardest day of the race so far, pushing us right to the limits of our psychological stability. At one stage we averaged 1.5 knots over 3 hours, whilst boats to the east were sailing between 4 and 7.5 knots. We were then hit by a large squall with 35 knots of wind, the boat took off and we covered our previous 3 hour distance in just 20 minutes! The centre of the large squall passed right over us, with strong flashes of blinding lightening and rain so hard it was like someone pouring constant buckets of water over you. Half an hour later, we were back to 1.5 knots…"
Today we are very grateful to have wind, and the race now is a race to get south, out of the Doldrums, and into the south east trades. Currently V&B are 18 miles more south than us, and should break into fresh winds before us, but then they will have to travel slightly further to get to Bahia as they are 40 miles further east.  Tense times… will be very interesting to see how things resolve, and hopefully we can claw some miles back!
The stamina and focus required to sail in these extreme conditions has been reportedly "fatiguing", but the duo are well adjusted to a natural routine that feels "more like home every day", says Phil. Unable to escape from the blistering sun and ever threatening pressures of competition, Pablo and Phil have been able to momentarily break from their testing reality through the distraction of local life.
"Imerys Clean Energy has attracted some amazing nature so far with huge shoals of flying fish rocketing past. Seemingly attracted to light, Pablo advised against wearing my head-torch too much having once been smacked in the face at night. I found this somewhat hard to believe until I became the next victim…
"Yesterday we had an unforgettable experience with a very special visit from two stunningly colourful Dorados, perhaps using the boat to get some much needed shade… With the beauty of their purple fins and bright yellow tails it's a reminder of how lucky we are to be out here – even if we are madly trying to get to that finish line first!", Phil commented.
As the fleet slowly head south towards the equator, the impact of the doldrums has become evident with a delayed ETA for next Friday.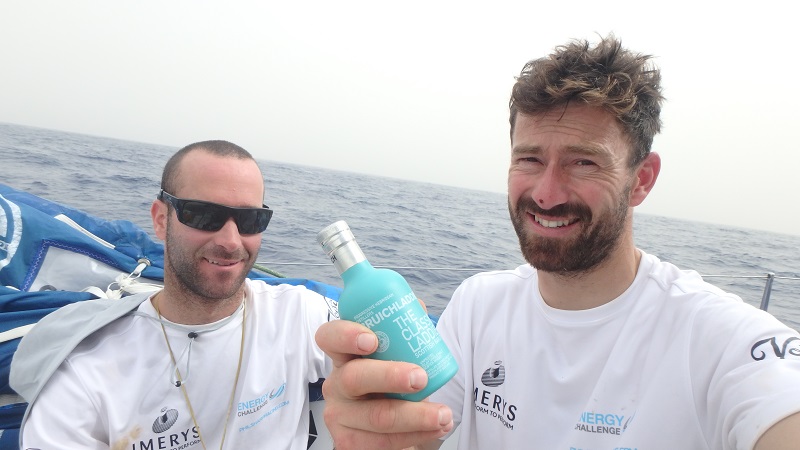 Preparing to toast Neptune – See Bruichladdich social media competition
From left: Pablo Santurde, Phil Sharp © www.philsharpracing.com