Phil Sharp attempts to defend the Normandy Channel Race title and teams up with Mini sailor Julien Pulvé;
30 Class 40 entries with big names from winners of the Vendée Globe, Volvo Ocean Race, Figaro, and Mini;
An estimated 12 duos in with a chance of winning;
Record time to break: 4 days, 11 hours, 15 minutes and 50 seconds set by Phil Sharp and Pablo Santurdé in 2017;
Race start: Sunday 14:30 local time (FR).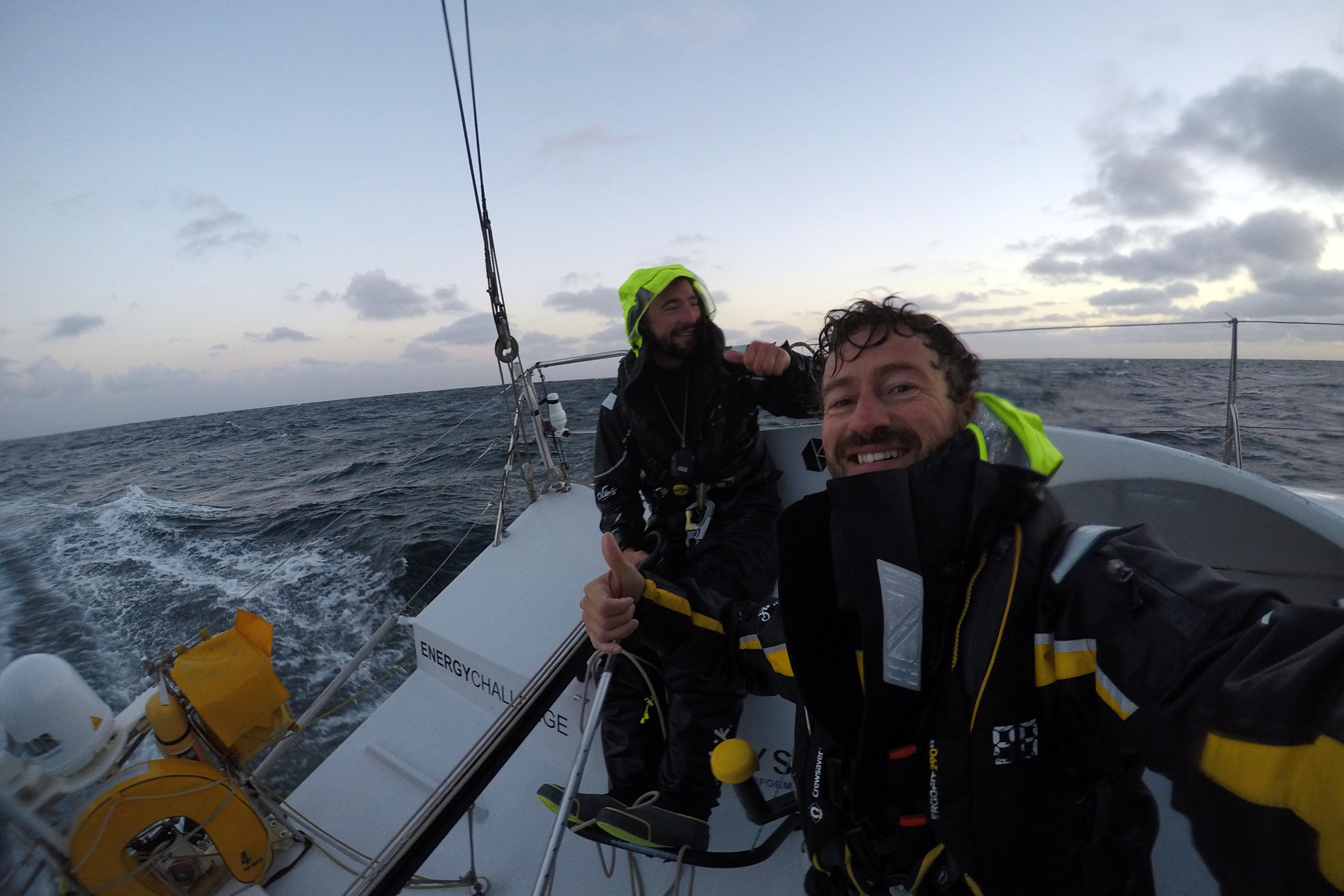 In light of this year's Route du Rhum grand slam, this 2018 edition of the Normandy Channel Race has attracted an impressive list of entries spread across all competitive offshore racing classes. Big names include Vincent Riou, winner of the 2004 Vendée Globe, Nicolas Troussel and Yoann Richomme, winners of the Solitaire du Figaro, Adrien Hardy (Phil's co-skipper in the 2017 Horta – Les Sables race) the recent winner of the Transat AG2R, and Jean Luc Nélias, winner of the 2012 Volvo Ocean Race.
Phil Sharp, Skipper of Imerys Clean Energy comments: "The line-up is ruthlessly competitive this year with some well-known skippers lured in by the Route du Rhum. Essentially, the number of teams with potential winning projects has doubled from last year! There are probably 11 teams that could pose a real threat to us, so if you thought some of the fights last year were intense, then this year expect the racing to be even closer and more exciting!"
This 2018 edition will be Phil's third Normandy Channel Race and he has teamed up with the talented up-and-coming skipper Julien Pulvé, who finished second in Class Series in the 2015 Mini Transat, and won rookie entry in last year's Solitaire du Figaro.
"I have competed in the Normandy Channel Race only once before in 2012 finishing 3rd and this year I am very excited to be racing again. For me the course is very interesting as it brings a mix of both inshore and offshore racing, making the tactics much more challenging and diverse. Though it will be a steep learning curve for me as I have not had much training with the boat and Phil, our mission remains – to aim for a top result!" Commented Imerys Clean Energy co-skipper Julien Pulvé.
Racing aboard Imerys Clean Energy, a 2013 Mach 2, the duo will be competing in a 1000 mile circuit starting and finishing in Caen, heading across the English Channel and the Irish Sea to Fastnet Rock, which typically presents windy and challenging conditions at this time of the year.
Interestingly, of the 30 boats in the race, 12 teams have strong podium potential, of which 10 duos will be racing newer boats than Imerys Clean Energy. The hit list in order of boat age:
Olympic pole vault champion Jean Galfione racing with Alan Pennaneach aboard Serenis Consulting, Humphreys Yacht Design, 2013;
Our reigning champion, Phil Sharp and his accomplice for the race Julien Pulvé, racing Imerys Clean Energy, S. Manuard Mach 2, 2013;
2017 co-skipper for the Horta-Les Sables d'Olonne race Adrien Hardy and Nicolas Jossier, aboard Manorga, S. Manuard Mach 2, 2014;
Multi 50 sailor Loïc Féquet and Benoit Champannhac aboard Phil Sharp's 2016 rival Botin design Tales II, 2013;
Peter Harding and Sam Goodchild aboard PHOR-TY, S. Manuard Mach 2, 2014;
Sébastien Marsset and Jean Luc Nélias aboard Campings Tohapi, Sabrosa Rain, 2014;
Maxime Sorel and Antoine Carpentier, winners of the last Transat Jacques Vabre, aboard V&B, S. Manuard Mach 3 2015;
Guillaume Le Brec racing with Vendée Globe winner Vincent Riou aboard Oman Sail, Verdier, 2016;
Louis Duc and Gwen Riou aboard Carac, extreme ocean going Lombard design, 2017;
Aymeric Chappellier and Fabien Delahaye, aboard Aïna Enfance et Avenir, S. Manuard Mach 3, 2017;
Luke Berry and Arthur Le Vaillant aboard Lamotte – Module Création, S. Manuard Mach 3, 2018;
Nicolas Troussel and Ian Lipinski aboard S. Manuard Mach 3, Corum, 2018.
"It's going to be really interesting to see how the fleet divides. Small tactical decisions could make or break the race, particularly in the Channel where the currents can be very strong and often amplify the effects of slightly different routes. With several newer boats thrown into the mix this year, there will be no time for complacency and we will need to pounce at the right opportunities and aim to be one step ahead on tactics at all times." Phil continued.
HOW TO FOLLOW
Follow the race with position tracker updates every 15 minutes and frequent updates from Imerys Clean Energy skipper Phil Sharp and co-skipper Julien Pulvé on social media and on the official team website here at www.philsharpracing.com.